The Price is Wrong: Understanding What Makes a Price Seem Fair and the True Cost of Unfair Pricing
ISBN: 978-0-470-13909-7
Hardcover
240 pages
January 2008
US $29.95

Add to Cart
This price is valid for United States. Change location to view local pricing and availability.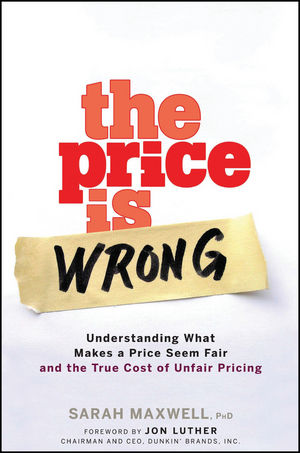 Other Available Formats:
E-book
Foreword.
Acknowledgements.
About the Author.
Part One. Background.
Chapter 1. Introduction: "Play fair or I quit!"
Chapter 2. History: "A 'just' price is not God-given!"
Part Two. Model.
Chapter 3. Model: "Now I'm not just annoyed, I'm furious!"
Chapter 4. Norms: "That's wrong, and we all know it!"
Chapter 5. Emotions: "You're not being fair and I hate you!"
Chapter 6. Expectations: "That price is a rip off!"
Chapter 7. Outcomes: "You should get what you pay for!"
Chapter 8. Attributions: "The seller is to blame!"
Chapter 9. Process: "Ya gotta play by the rules!"
Chapter 10. Punishment: "Revenge is sweet!"
Chapter 11. Power: "Beware a customer wronged!"
Chapter 12. Trust: "Fair price? I doubt it!"
Part Three. Applications.
Chapter 13. Modifications: "Sorry. The rules have changed!"
Chapter 14. Tipping: "Just don't stiff the waiter!"
Chapter 15. Discrimination: "It's unfair to charge me more than others!"
Chapter 16. Negotiations: "Split the difference. That's fair!"
Chapter 17. Taxes: "Paying taxes is as American as disliking taxes!"
Chapter 18. Culture: "But I never ordered any bread!"
Chapter 19. Strategy: "So how can a company price fairly?"
Appendix A. The Price is Unfair! A Conceptual Framework of Price Fairness Perceptions.
Appendix B. Price Fairness.
Notes.
References.