E-book
Simple Computer Security: Disinfect Your PC
ISBN: 978-0-470-13915-8
332 pages
April 2007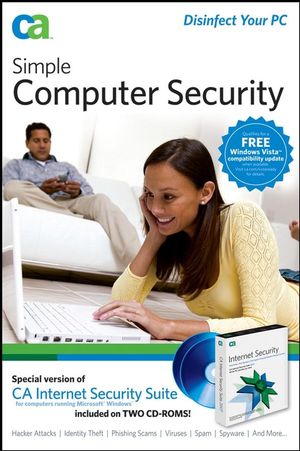 Hands-on guide to the CA Internet Security Suite, which includes Parental Controls (blocks offensive Web sites, controls program use, and monitors Internet activity); Anti-Spyware (sweeps PCs of malicious software like spyware and adware); Anti-Spam (ensures that computer users get messages from people they know, while redirecting messages from people they don't); Anti-Virus (detects and removes computer viruses); and Personal Firewall (prevents hackers from attacking a PC)
CA will include a special version of their $70 suite free with this book, which contains separate applications for Parental Controls, Anti-Spyware, Anti-Spam, Anti-Virus, and a Personal Firewall (good for 6 months)
Note: CD-ROM/DVD and other supplementary materials are not included as part of eBook file.
See More
Acknowledgments.
Introduction.
Part I: Understand the Threats and Solutions.
Chapter 1: Viruses, Spyware, and Other Malware Infections.
Chapter 2: Spam, PC Intrusion, and Inappropriate Content.
Chapter 3: Solutions to Online Threats.
Part II: Detect and Eliminate Threats.
Chapter 4: Installing CA Internet Security Suite 2007.
Chapter 5: Using the CA Security Center.
Chapter 6: Detecting and Eliminating Viruses.
Chapter 7: Stopping Hackers from Attacking Your PC.
Chapter 8: Protecting Against Spyware and Adware.
Chapter 9: Blocking Spam.
Chapter 10: Blocking Offensive Websites.
Chapter 11: Ensuring Up-to-Date Protection.
Index.
See More
CA Founded in 1976, CA is a global company with 150 offices in more than 45 countries and revenues of $3.5 billion in 2005. With over 15,000 employees, CA provides products and support to 98% of Fortune 500® companies, as well as government entities, educational institutions, and thousands of other companies in diverse industries worldwide. CA products cover systems, networks, security, storage, and databases.
See More