E-book
Drug Transporters: Molecular Characterization and Role in Drug Disposition
ISBN: 978-0-470-14049-9
656 pages
September 2007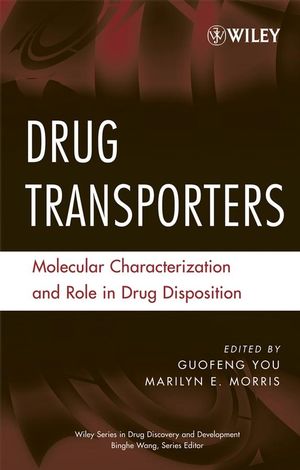 A comprehensive guide to drug transporters that influence the absorption, distribution, and elimination of drugs in the body

The development of powerful expression cloning and genome analysis techniques has facilitated the molecular identification and characterization of numerous transporters that play a crucial role in drug disposition. Explaining the principles of drug transport and the associated techniques, Drug Transporters: Molecular Characterization and Role in Drug Disposition:
*

Provides a comprehensive overview of drug transporters
*

Includes specific descriptions of transporter families, including substrate and inhibitor specificity, subcellular and tissue localization, mechanisms governing transport, species differences, the clinical implications of these transporters in human physiology and disease, and their role in drug distribution, elimination, and interactions in drug therapy
*

Describes transporter-mediated drug disposition, a newly emerging field in drug therapy
*

Gives a comprehensive summary of drug transport across biological membranes
*

in the liver, brain, kidney, and intestine
*

Provides balanced coverage of mechanistic aspects and functional outcomes
*

Features chapters contributed by distinguished scientists in their specialty areas
*

Provides sufficient detail to enable non-specialists to understand the principles and techniques

This authoritative guide is a practical hands-on desk reference for researchers in academia and the pharmaceutical industry and scientists in government agencies. It is also an excellent text for graduate-level courses in the pharmaceutical and pharmacology fields.
See More
Contributors.
Preface.
1 Overview of Drug Transporter Families (Guofeng You and Marilyn E. Morris).
2 Organic Cation Transporters (Thomas J. Urban and Kathleen M. Giacomini).
3 Organic Cation/Carnitine Transporters (Ijaz A. Qureshi, Ihsan Elimrani, Ernest Seidman, and Grant Mitchell).
4 Organic Anion Transporters (Megha Nagle, David M. Truong, Vibha Bhatnagar, Gregory Kaler, Kevin T. Bush, Wei Wu, Satish A. Eraly, and Sanjay K. Nigam).
5 Organic Anion–Transporting Polypeptides (Rommel G. Tirona and Richard B. Kim).
6 Mammalian Oligopeptide Transporters (Stephen M. Carl, Dea Herrera-Ruiz, Rajinder K. Bhardwaj, Olafur Gudmundsson, and Gregory T. Knipp).
7 Monocarboxylate Transporters (Justin A. Spanier and Lester R. Drewes).
8 Nucleoside Transporters: CNTs and ENTs (Li Xia, Mingyan Zhou, and Joanne Wang).
9 Bile Acid Transporters (Jyrki J. Eloranta and Gerd A. Kullak-Ublick).
10 Multidrug Resistance Protein: P-Glycoprotein (Frances J. Sharom).
11 Multidrug Resistance Proteins of the ABCC Subfamily (Anne T. Nies, Maria Rius, and Dietrich Keppler).
12 Breast Cancer Resistance Protein (Robert W. Robey, Orsolya Polgar, John Deeken, Kenneth K. W. To, and Susan E. Bates).
13 Drug Transport in the Liver (Pieter Annaert, Brandon Swift, Jin Kyung Lee, and Kim L. R. Brouwer).
14 Drug Transport in the Brain (Patrick T. Ronaldson, Karlo Babakhanian, and Reina Bendayan).
15 Drug Transport in the Kidney (Naohiko Anzai and Hitoshi Endou).
16 Drug Transporters in the Intestine (Yaming Su and Patrick J. Sinko).
17 Regulation of Drug Transporter Activity (Mei Hong and Guofeng You).
18 Experimental Approaches to the Study of Drug Transporters (Yoshiyuki Kubo, Yukio Kato, and Akira Tsuji).
19 In Vitro–In Vivo Scale-up of Drug Transport Activities (Kazuya Maeda and Yuichi Sugiyama).
20 Age- and Gender-Related Differences in Xenobiotic Transporter Expression (Curtis D. Klaassen and Xingguo Cheng).
21 Polymorphisms of Drug Transporters and Clinical Relevance (Leslie W. Chinn, Jason M. Gow, and Deanna L. Kroetz).
22 Diet/Nutrient Interactions with Drug Transporters (Xiaodong Wang and Marilyn E. Morris).
23 Interplay of Drug Transporters and Enzymes on Hepatic Drug Processing (K. Sandy Pang, Huadong Sun, and Shanjun Liu).
24 Clinical Relevance: Drug–Drug Interactions, Pharmacokinetics, Pharmacodynamics, and Toxicity (Serena Marchetti, Roberto Mazzanti, Jos H. Beijnen, and Jan H. M. Schellens).
Index.
See More
Guofeng You, PhD
, is an Associate Professor at the Ernest Mario School of Pharmacy at Rutgers University.
Marilyn E. Morris, PhD, is a Professor of Pharmaceutical Sciences in the School of Pharmacy and Pharmaceutical Sciences and Associate Dean in the Graduate School at the University at Buffalo, State University of New York.
See More
More in this series