E-book
Polymeric Systems, Volume 94
ISBN: 978-0-470-14206-6
742 pages
September 2009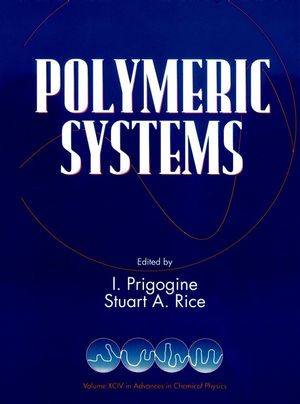 It is difficult to imagine how our highly evolved technological society would function, or how life would even exist on our planet, if polymers did not exist. The intensive study of polymeric systems, which has been under way for several decades, has recently yielded new insights into the properties of assemblies of these complex molecules and the physical principles that govern their behavior. These developments have included new concepts to describe aspects of the many body behavior in these systems, microscopic analyses that bring our understanding of these systems much closer to our understanding of simple liquids and solids, and the discovery of novel chemistry that these molecules can catalyze.

This special topic volume of Advances in Chemical Physics surveys a number of these recent accomplishments. Supplemented with more than 250 illustrations, it provides a significant, up-to-date selection of papers by inter-nationally recognized researchers.

Topics include:
* Theory of Polyelectrolyte Solutions
* Star Polymers: Experiment, Theory, and Simulation
* Tethered Polymer Layers
* Living Polymers
* Transport and Kinetics in Electroactive Polymers

Self-contained, authoritative, and timely, Polymeric Systems makes the cutting edge of polymer research available to scientists in every branch of chemical physics.

Contributors to POLYMERIC SYSTEMS

JEAN-LOUIS BARRAT, Département de Physique des Matériaux, Université Claude Bernard-Lyon l, France

A. BAUMGÄRTNER, Institut für Festkörperforschung, Germany

M. A. CARIGNANO, Department of Chemistry, Purdue University, West Lafayette, Indiana

LEWIS J. FETTERS, Corporate Research Science Laboratories, Exxon Research and Engineering Company, Annandale, New Jersey

SANDRA C. GREER, Department of Chemical Engineering, University of Maryland at College Park

GARY S. GREST, Corporate Research Science Laboratories, Exxon Research and Engineering Company, Annandale, New Jersey

JOHN S. HUANG, Corporate Research Science Laboratories, Exxon Research and Engineering Company, Annandale, New Jersey

JEAN-FRANÇOIS JOANNY, Institut Charles Sadron, France

MICHAEL E. G. LYONS, Electroactive Polymer Research Group, Physical Chemistry Laboratory, University of Dublin, Ireland

M. MUTHUKUMAR, Department of Polymer Science, University of Massachusetts, Amherst, Massachusetts

DIETER RICHTER, Institut für Festkörperforschung, Germany

I. SZLEIFER, Department of Chemistry, Purdue University, West Lafayette, Indiana
See More
Theory of Polyelectrolyte Solutions (J.-L.

Barrat & J.-F.

Joanny).

Star Polymers: Experiment, Theory, and Simulation (G. Grest, et al.).

Tethered Polymer Layers (I. Szleifer & M. Carignano).

Living Polymers (S. Greer).

Transport and Kinetics in Electroactive Polymers (M. Lyons).

Polymers in Disordered Media (A. Baumgärtner & M. Muthukumar).

Indexes.
See More
ILYA PRIGOGINE is Director of the Instituts Internationaux de Physique et de Chimie, E. Solvay, Brussels, Belgium. One of the foremost figures in his field, Professor Prigogine is the Ashbel Smith Professor of Physics and Chemical Engineering at the University of Texas at Austin, where he is also Director of Ilya Prigogine's Center for Studies in Statistical Mechanics and Complex Systems. He is the holder of many scientific prizes, 35 honorary degrees, special chairs, and visiting professorships. In 1977 he was awarded the Nobel Prize in chemistry. Professor Prigogine is a member of many national academies, including the Russian National Academy of Sciences. In 1989 he was given the title of viscount by the King of Belgium.

STUART A. RICE is the Frank P. Hixon Distinguished Service Professor in the James Franck Institute and the Department of Chemistry of the University of Chicago. A former dean of the university's Division of Physical Sciences, Professor Rice is a world-renowned authority on chemical physics who has received scores of awards and honors. A former Alfred P. Sloan Fellow and Guggenheim Fellow, Professor Rice is also a Fellow of the American Academy of Arts and Sciences, the National Academy of Sciences, and the American Philosophical Society.
See More