The Complete Guide to Flipping Properties, 2nd Edition
ISBN: 978-0-470-14677-4
288 pages
January 2008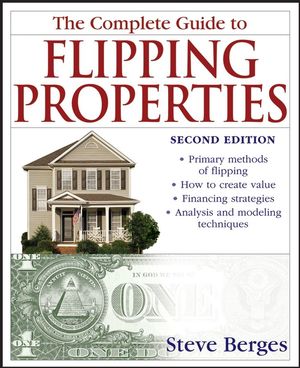 Now in a newly updated and revised second edition, The Complete Guide to Flipping Properties covers all the ins and outs of buying, renovating, and reselling distressed properties at big profits. Steve Berges shows you how to excel at every aspect of flipping, from finding great deals, to analyzing property values, to negotiating sales, to closing deals. With new information on flipping in a soft market, this is the only guide you need to start turning a profit now.
See More
Acknowledgments.
Chapter 1. Introduction.
Background.
Real Estate - A Sound Investment.
Leverage - The O.P.M. Principle.
Economic Housing Outlook For The Next Decade.
Chapter 2. Flipping Properties Defined.
Three Primary Classes Of Flippers.
Scouts.
Dealers.
Retailers.
Using Options To Flip Properties.
Clearly Defined Objectives.
Entry Strategy.
Post-Entry Strategy.
Exit Strategy.
Chapter 3. The Value Play Strategy.
Buy and Hold Strategy.
The Value Play Strategy.
The Value Play Selection Process.
Property Location.
Price Range.
Physical Condition.
Chapter 4. Ten Ways to Locate Properties.
Real Estate Agents.
Classified Advertising.
Real Estate Publications.
Local and National Web Sites.
Real Estate Investment Clubs.
Bank R.E.O.s.
Marketing.
For Sale By Owners (FSBOs).
Vacant Properties.
Foreclosures.
Chapter 5. Valuation Methodologies.
How To Know How Much Is Too Much.
Valuation Methodologies.
Replacement Cost Approach.
Income Capitalization Approach.
Sales Comparison Approach.
Chapter 6. Financial Analysis.
The Texas Two Step.
Multiply Your Efforts By 22.
From Residential To Commercial.
Chapter 7. Seven Steps of Successful Negotiations.
The Psychology Of Negotiating.
Comprehensive Knowledge Of Market.
Degree Of Seller's Motivation.
Back Door Exits.
Concessions.
Chapter 8. Financing And Closing Considerations.
Conventional Mortgages.
Mortgage Brokers.
Local Banks.
Lines Of Credit.
Owner Financing.
Partnerships.
Your Business Plan.
What Every Borrower Should Know About Credit Scores.
Underwriting Guidelines.
The Closing Process.
Chapter 9. Assemble A Winning Team Of Professionals.
Scouts And/Or Dealers.
Office Manager.
Property Rehab Manager.
Local Lender Or Mortgage Broker.
Real Estate Attorney.
Title Company.
Real Estate Agents.
Chapter10. Three Keys To Maximizing Your Potential.
Post-Entry Planning.
Doing It Yourself Versus Hiring It Out.
Increase Your Property's Marketability.
Bonus Section The Three Laws of Life.
The Law Of Liberty.
The Law Of Leadership.
The Law Of Love.
Chapter 11. Radio Program - Weeks 1 and 2.
Investment Week #1.
Investment Week #2.
Chapter 12. Radio Program - Weeks 3 and 4.
Investment Week #3.
Investment Week #4.
Chapter 13. Radio Program Weeks 5 and 6.
Investment Week #5.
Investment Week #6.
Chapter 14. Radio Program Weeks 7 and 8.
Investment Week #7.
Investment Week #8.
Chapter 15. Case Study Analysis: How You Can Go From Zero to $20k in 90 Days or Less.
Case Study: From Zero to $20k.
The Value Play Rehab Analyzer.
Purchase Assumptions.
Primary and Secondary Financing Assumptions.
Estimate for Improvements.
Comparable Home Sales.
Comp Averages.
Subject Property.
Bonus Chapter 16. S.M.A.R.T. Goals.
Glossary.
Appendix A. Property Inspection Checklist.
Appendix B. www.thevalueplay.com.
Appendix C. www.symphony-homes.com.
Appendix D. Sample Personal Financial Statement.
Index.
See More
Steve Berges is a successful real estate investor who specializes in creating real estate value through single-family homes, apartment complexes, and the development of single-family housing communities. He is also the author of The Complete Guide to Buying and Selling Apartment Buildings, from Wiley.
See More