Virtualization For Dummies
ISBN: 978-0-470-14831-0
384 pages
December 2007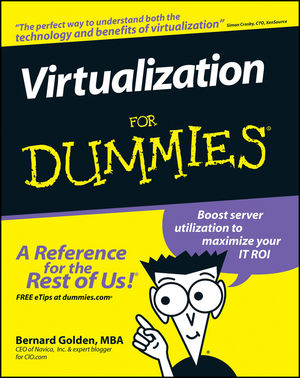 Virtualization has become a "megatrend"—and for good reason. Implementing virtualization allows for more efficient utilization of network server capacity, simpler storage administration, reduced energy costs, and better use of corporate capital. In other words: virtualization helps you save money, energy, and space. Not bad, huh?
If you're thinking about "going virtual" but have the feeling everyone else in the world understands exactly what that means while you're still virtually in the dark, take heart. Virtualization for Dummies gives you a thorough introduction to this hot topic and helps you evaluate if making the switch to a virtual environment is right for you.
This fun and friendly guide starts with a detailed overview of exactly what virtualization is and exactly how it works, and then takes you on a tour of the benefits of a virtualized environment, such as added space in overcrowded data centers, lower operations costs through more efficient infrastructure administration, and reduced energy costs through server consolidation.
Next, you'll get step-by-step guidance on how to:
Perform a server virtualization cost versus benefit analysis
Weigh server virtualization options
Choose hardware for your server virtualization project
Create a virtualized software environment
Migrate to—and manage—your new virtualized environment
Whether you're an IT manager looking to sell the idea to your boss, or just want to learn more about how to create, migrate to, and successfully manage a virtualized environment, Virtualization for Dummies is your go-to guide for virtually everything you need to know.
See More
Foreword.
Introduction.
Part I: Getting Started with a Virtualization Project.
Chapter 1: Wrapping Your Head around Virtualization.
Chapter 2: Making a Business Case for Virtualization.
Chapter 3: Understanding Virtualization: Technologies and Applications.
Chapter 4: Peeking at the Future of Virtualization.
Part II: Server Virtualization.
Chapter 5: Deciding Whether Server Virtualization Is Right for You.
Chapter 6: Performing a Server Virtualization Cost-Benefit Analysis.
Chapter 7: Managing a Virtualization Project.
Chapter 8: Choosing Hardware for Your Server Virtualization Project.
Part III: Server Virtualization Software Options.
Chapter 9: Migrating to Your New Virtualized Environment.
Chapter 10: Managing Your Virtualized Environment.
Chapter 11: Creating a Virtualized Storage Environment.
Part IV: Implementing Virtualization.
Chapter 12: Implementing VMware Server.
Chapter 13: Implementing Fedora Virtualization.
Chapter 14: Implementing XenExpress.
Part V: The Part of Tens.
Chapter 15: Ten Steps to Your First Virtualization Project.
Chapter 16: Ten Virtualization Pitfalls to Avoid.
Chapter 17: Ten Great Resourceson Virtualization.
Index.
See More
Bernard Golden has been called "a renowned open source expert" (IT Business Edge) and "an open source guru" (SearchCRM.com) and is regularly featured in magazines like Computerworld, InformationWeek, and Inc. His blog "The Open Source" is one of the most popular features of CIO Magazine's Web site. Bernard is a frequent speaker at industry conferences like LinuxWorld, the Open Source Business Conference, and the Red Hat Summit. He is the author of Succeeding with Open Source, (Addison-Wesley, 2005, published in four languages), which is used in over a dozen university open source programs throughout the world. Bernard is the CEO of Navica, a Silicon Valley IT management consulting firm.
See More