Wood-Plastic Composites
ISBN: 978-0-470-14891-4
702 pages
August 2007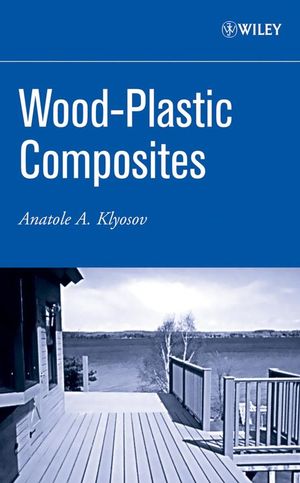 A comprehensive, practical guide to wood-plastic composites and their properties
This is the first book that presents an overview of the main principles underlying the composition of wood-plastic composite (WPC) materials and their performance in the real world. Focusing on the characteristics of WPC materials rather than their manufacture, this guide bridges the gap between laboratory-based research and testing and the properties WPC materials exhibit when they're used in decks, railing systems, fences, and other common applications. Complete with practical examples and case studies, this guide:
Describes compositions of WPC materials, including thermoplastics, cellulose fiber, minerals, additives, and their properties
Covers mechanical properties, microbial resistance, water absorption, flammability, slip resistance, thermal expansion-contraction, sensitivity to oxidation and solar radiation, and rheological properties of hot melts of WPC
Covers subjects that determine esthetics, properties, performance, and durability of wood-plastic composite products
Includes comparisons of different ASTM methods and procedures that apply to specific properties
This is a comprehensive, hands-on reference for scientists, engineers, and researchers working with wood-plastic composites in plastics and polymers, materials science, microbiology, rheology, plastic technology, and chemical engineering, as well as an outstanding text for graduate students in these disciplines. It's also an excellent resource for suppliers and WPC manufacturers, and an accessible guide for developers, homebuilders, and landscape architects who want to know more about wood-plastic composites and their performance in the real world.
See More
Introduction 1
Part I: What's All the Buzz about Woodworking 7
Chapter 1: Discovering the Basics of Woodworking 9
Chapter 2: Wood You Be Mine? Appreciating Wood for All It's Worth 15
Chapter 3: Putting Safety First in Your Workshop 37
Part II: Tool Time: Selecting and Setting Up Your Equipment 47
Chapter 4: Gearing Up: Choosing Tools That Are Right for You 49
Chapter 5: Getting a Handle on Hand Tools 57
Chapter 6: Peeking at Portable Power Tools 81
Chapter 7: Introducing the Big Guns: Stationary Power Tools 99
Chapter 8: Setting Up your workshop and Maximizing Your Tools 117
Part III: Together Forever: Basic Wood Joinery 137
Chapter 9: Stuck on You: Using Adhesives and Glues 139
Chapter 10: Working with Wood Joints 147
Chapter 11: Making the Most of Mechanical Fasteners 179
Part IV: getting Your Hands (and Shop) Dirty: Turning Raw Wood into Furniture 185
Chapter 12: Understanding the Building Process 187
Chapter 13: Banging Out Bookcases 201
Chapter 14: Tackling Tables 227
Chapter 15: Creating Cabinets 259
Part V: The Grand Finale: Sanding and Finishing Your Masterpiece 295
Chapter 16: Smoothin' It Out by Sanding and Filling 297
Chapter 17: Adding Color: Stains and Paints 305
Chapter 18: Protecting Your Work with Topcoats 313
Part VI: The Part of Tens 323
Chapter 19: Ten Great Habits to Get Into 325
Chapter 20: Ten Common Woodworking Pitfalls and How to Avoid Them 329
Chapter 21: Ten Great Woodworking Resources 335
Index 339
See More
Anatole A. Klyosov, PHD, was Consulting Vice President of LDI Composites Co. (formerly Kadant Composites, where he was Vice President of research and development). Dr. Klyosov was also professor of biochemistry at Harvard University for eight years. He is currently Chief Scientist at Pro-Pharmaceuticals, Inc. He has published almost 300 peer-reviewed articles, thirty-five patents, and a number of books.
See More