Making Hard Cash in a Soft Real Estate Market: Find the Next High-Growth Emerging Markets, Buy New Construction--at Big Discounts, Uncover Hidden Properties, Raise Private Funds When Bank Lending is Tight
ISBN: 978-0-470-15289-8
228 pages
August 2007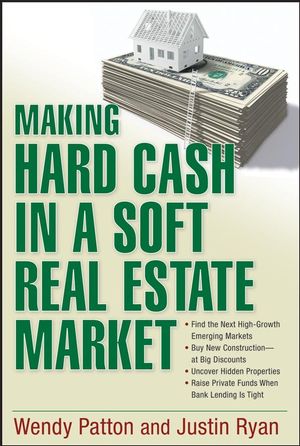 "Filled with creative strategies that work in today's market. A must-read for the real estate investor!"
-Albert Lowry, PhD, New York Times bestselling author of

How You Can Become Financially Independent by Investing in Real Estate

A few years ago, even reckless real estate investors could still make money because the market was booming. But many markets have softened, and making a profit isn't as simple as it used to be. However-with the right strategy and long-term thinking-there is still plenty of money to be made in real estate.

If you're willing to look outside your local market, you'll discover emerging markets that are booming. And there are also smart investing strategies that work especially well in slowing markets. You can do it! You just need the new rules and wise tactics you'll find in this practical, profitable guide:
*

Invest in up-and-coming, high-growth emerging markets
*

Learn the powerful strategy of market-timing
*

Use lease options to get more for your money
*

Learn creative strategies to engineer hands-off investments
*

Find foreclosures and other hidden bargains
*

Invest in bargain-rate new construction projects

There are great deals hiding in every real estate market, and this book makes finding those values easy. Whether you want to locate the next up-and-coming growth markets, or find creative ways to finance your investments, Making Hard Cash in a Soft Real Estate Market is a savvy guide to investing for anyone who wants to play it safe and profitably.
See More
Introduction.
Part I. How You Can Still Make Good Money in a Soft Real Estate Market.
1. How Real Estate Investing Must Change When the Market Shifts from Hot to Cool - Why There's Still Good Money to be Made in a Cool Market.
2. The Secret is Out - How the Wealthy Make Their Money.
Part II. The Psychology of Successfully Investing in a Down Market When Others are Running Scared.
3. The One Thing That Stops Investors Before They Even Start.
4. The Science of Risk Management for the Real Estate Investor.
Part III. The Best Investment Strategies for a Soft Market.
5. Find the Next High Growth "Emerging Markets".
6. Time the Market -- When Will it Be Safe to Start Investing Again in Nevada, Florida, Arizona, and Other "Burst Bubbles"?
7. The Power of Lease Options in a Soft Market .
8. A New Opportunity in the Soft Market - Land Contracts & Seller Financing.
9. Getting the Deed from Sellers in Trouble - AKA "Subject To".
10. Invest in Foreclosures and Other Hidden Bargains.
11. Buy Unsold, Discounted Inventory from Builders in Distressed Markets.
12. The Way to "Buy & Hold" in a Down Market.
13. Our Favorite Investment Strategy - Investing in New Construction, in the Emerging Market, in a Hands-Off Fashion.
Part IV. Creative Financing in a Soft Market When Bank Lending is Tight.
14. Determining How Much Investing You Can Afford.
15. Successfully Financing Your Real Estate Investments.
16. The Importance of Using Other Peoples' Resources.
17. The Nuts and Bolts of Numerical Analysis.
Part V. New Construction Investing: An Ideal Soft-Market Strategy.
18. The Development Process - How it All Comes Together.
19. The Power of Group Buying.
20. Exit Strategies - When and How to Sell.
21. Base Your Investing on a Foundation of Reality.
Appendix A.
Index.
See More
Wendy Patton is a sought-after real estate speaker, investor, and broker who owns brokerages and offices in multiple states. She has extensive experience in land development, property management, multifamily homes, pre-construction, rehabs, foreclosures, and lease options. She is also the author of Investing in Real Estate with Lease Options and "Subject-To" Deals, from Wiley.
Justin Ryan is a real estate investor and speaker who used the power of real estate to become financially free before the age of thirty. He has extensive experience in creative landlording, rehabbing for retail, short sales, and new construction.
See More
Buy Both and Save 25%!
Making Hard Cash in a Soft Real Estate Market: Find the Next High-Growth Emerging Markets, Buy New Construction--at Big Discounts, Uncover Hidden Properties, Raise Private Funds When Bank Lending is Tight (US $24.95)
-and- Investing in Real Estate, 7th Edition (US $19.95)
Total List Price: US $44.90
Discounted Price: US $33.67 (Save: US $11.23)
Cannot be combined with any other offers. Learn more.