Event Planning: The Ultimate Guide To Successful Meetings, Corporate Events, Fundraising Galas, Conferences, Conventions, Incentives and Other Special Events, 2nd Edition
ISBN: 978-0-470-15574-5
448 pages
December 2008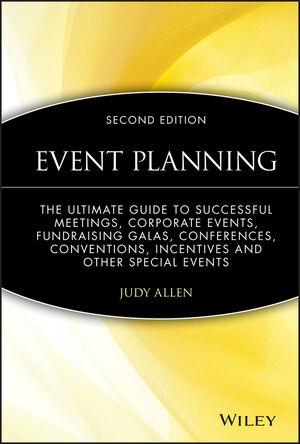 This bestselling all-in-one guide to the event planning business is back and better than ever, fully updated and revised to reflect the very latest trends and best practices in the industry. This handy, comprehensive guide includes forms, checklists, and tips for managing events, as well as examples and case studies of both successful and unsuccessful events.
Judy Allen (Toronto, ON, Canada) is founder and President of Judy Allen Productions, a full-service event planning production company.
See More
Preface xiii
Acknowledgments xxiii
Chapter 1: The First Steps: Initial Planning & Budgeting 1
Determining Your Event Objectives 4
How Much Can You Spend? 5
Event Vision 7
Event Vision Q&A 17
Design Objectives of the Event Experience 24
Initial Planning 33
Visualization 38
Monitoring the Budget 41
Event Design Principles Checklist 45
Event Experience Design Objectives 45
Chapter 2: Organization and Timing 47
Critical Path 47
Function Sheets 52
Timing 58
Date Selection 67
Critical Path Checklist 73
Charting Your Critical Path 74
Chapter 3: Location, Location, Location 80
Site Selection 81
Location Requirements 90
Hotels and Convention Centers 93
Restaurants, Private Venues, Catering 98
Theaters 99

Tents 101
Gala Openings in New Venues 107
Contracts 108
Location Q&A 110
Move In Requirement Checklist 126
Event Suppliers' Setup Logistics Checklist 128
Event Suppliers' Teardown Checklist 131
Chapter 4: Transportation 133
By Air 136
By Land 140
Transportation Q&A 148
Transportation Checklist 164
Chapter 5: Guest Arrival 166
Guest Arrival Q&A 169
Fanfare 182
Fanfare Q&A 184
Registration: Guest Pass Security and Ticket Pickup 193
Registration Q&A 194
Guest Arrival Checklist 201
Chapter 6: Venue Requirements 202
Room Requirements 203
Room Requirements Q&A 203
Staging, Audiovisual, Lighting 208
Staging, Audiovisual, Lighting Q&A 213
Lighting-Specific Q&A 221
Venue and Event Supplier Checklist: Room, Venue and Supplier Requirements, and Contract Terms and Conditions 222
Chapter 7: Who's It All For? 226
Know Your Guest Demographics 226
The Guest List 230
Invitations 234
Media 240
Media Q&A 241
Children at Your Event 242
E-vites, CD and DVD Invitations 244
Event Websites and Event RSVP Websites 246
Chapter 8: Food and Beverage 247
Examples of Texas Theme Parties with Different Energy 248
Food and Beverage Considerations 251
Menu Planning 255
Staffing 294
Charitable Donations 297
Chapter 9: Other Considerations 299
Entertainment 299
Entertainment Q&A 301
Photographers and Videographers 308
Photographer Q&A 311
Themes and Programs 317
Final Touches 327
Staff , Supplier and Entertainment Work Permits 330
Event Risk Assessment 335
Conclusion 340
It's a Wrap! 340
Applause! Applause! 349
Your Next Event 350
Appendix A: Sample Cost Sheets 352
Appendix B: Sample Payment Schedules 376
Appendix C: Sample Function Sheets 384
Index 403
See More
Judy Allen
is one of the world's leading authorities on staging, event and lifestyle design and the bestselling author of ten books for the professional, business and consumer markets. Allen, a master of creative design, has flawlessly executed successful special events—corporate, social, and celebrity—for up to 2,000 guests at a time in more than 30 countries around the world. She has designed and produced memorable events such as Disney's worldwide theatrical opening-night gala for
Beauty and the Beast
, and the orchestration of Oscar-winning director Norman Jewison's 25th anniversary celebration for
Fiddler on the Roof
.
Highly skilled in staging events that are strategically designed to be one-of-kind experiences and a master of transforming the energy of an event environment by engaging the senses with trademark primary design principles, Allen has worked closely with CEOs, CFOs, presidents and their executive staff around the globe to create, implement and oversee their corporate and social business events.
The many diverse events that Allen has designed and executed extend from complex one-day events to elaborate arrangements of theme productions taking place over the course of a week. These events ranged from very exclusive VIP events to multimillion-dollar, multimedia fantasy extravaganzas including seven new-car product launches and involved high-tech stage and show productions.
Allen, and her 2jproductions (
www.2jproductions.com
) partner, Joe Shane, are now bringing their dynamic creative energy, innovative style and perceptive insight to home, life and lifestyle design and world class resorts around the world through Sensual Home Living™ (
www.sensualhomeliving.com
) and other initiatives.
See More
Learn more about