Money Magnet: How to Attract Investors to Your Business
ISBN: 978-0-470-15575-2
288 pages
July 2008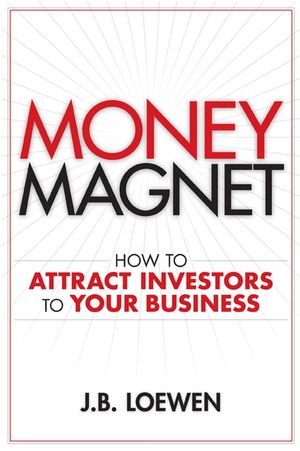 The number-one issue for every entrepreneur is Money—getting money, raising money, convincing investors to give you money. Whether you are a start up, a small to mid-sized enterprise, or a $100-million company, your biggest problem is always money. There is currently a mad rush towards private equity—the new, hot way to get financing—but it remains a mystery to most entrepreneurs and owners/managers of SMEs.
Money Magnet
unlocks the puzzle of private equity financing and shows how understanding private equity is the first step to growing wealth in your business.
Historically, the most common ways to raise financing for SMEs was through bank loans or through the stock markets. But banks are notoriously risk-averse and conservative in lending to small businesses, and the great bull market is over. For most small and medium sized companies, the small cap public issue market is no longer a viable source of financing. Enter private equity. There are billions of dollars of private equity funds available in Canada and millions of SMEs looking for money, but the two don't always know how to find one another and, when they do, usually don't speak the same language. This is the book that explains to business people what private equity financing is, how it works, how and where to find it, how to be successful in attracting it, and all the advantages and disadvantages of raising financing in this way.
Money Magnet is for entrepreneurs in emerging growth companies who are seeking financing and want to explore the benefits of the private equity option. In language that entrepreneurs understand, Jacoline Loewen demystifies the world of private equity in this simple yet comprehensive guide. Money Magnet explains what private equity is and how it works; compares it with traditional sources of financing, such as banks and stock markets; explains the different types of private equity investors (e.g., angels, venture capitalists, fund managers and institutional investors); outlines the benefits and pitfalls; describes how to meet venture capitalists and fund managers; shows how to make a convincing pitch to an investor; reveals what makes investors cringe and what makes them open up their cheque book; provides strategies to deal with the four brutal questions all investors ask; explains in detail the deal process and the deal sheet; gives advice on common conflicts between investors and entrepreneurs and how to manage them; includes a detailed checklist of what an investor wants to know about you and your business; and much more.
See More
Acknowledgements.
Part I: Why Your Company Needs Private Equity.
Chapter 1: What You Should Know about Attracting Money.
Chapter 2: The Big Diff erence: Other People's Money
Chapter 3: Taking on a Private Equity Partner: How It Works.
Part II: Building Blocks of Money Magnet.
Chapter 4: The Food Chain: Match Your Business with the Right Investors.
Chapter 5: What Angels and Seed Funds Need.
Chapter 6: What You Should Know about Venture Capitalists.
Chapter 7: The Valuation: Create the Framework for Fund Managers.
Part III: Getting "Investor Ready".
Chapter 8: Four Brutal Questions and Why You Need to Answer Them.
Chapter 9: Creating Plans That Get You Funded.
Chapter 10: The Smart Presentation: Raising Capital Face to Face.
Chapter 11: The Win/Win Deal.
Appendix: Selected Web Links to Government-Funded Programs.
Glossary of Commonly Used Terms.
Index.
See More
As a partner with Loewen & Partners Inc., Jacoline Loewen seeks capital for companies ranging from $10 million in revenues and up, as well as for family owned enterprises. Loewen & Partners has raised over $100 million in private equity for owners of companies.
Jacoline's other roles include mentoring for the Canadian Youth Business Foundation, serving as a judge for the Ivey Business School's annual Business Plan Competition, sitting on one of the University of Toronto's Rotman MBA IMC volunteer boards, as well as being a member of Canadian Association of Family Enterprises and Women in Capital Markets. She was on the Board of Directors of the Strategic Leadership Forum as well as Bilingo China and Innovation Exchange.
Jacoline organizes CEO Roundtables and other conferences to transform the way CEOs and owners see their company and to encourage innovation and powerful growth. She is also the author of The Power of Strategy (1997), and Business Evolution (2001).
See More