E-book
Coaching Corporate MVPs: Challenging and Developing High-Potential Employees
ISBN: 978-0-470-15633-9
224 pages
April 2009, Jossey-Bass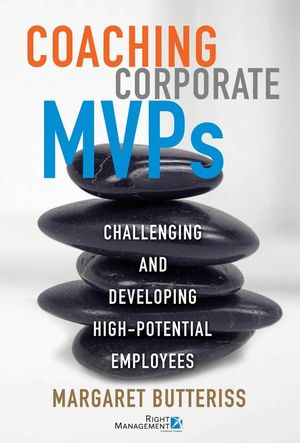 "
Coaching Corporate MVPs
provides a very effective guide for developing this small group of high-impact performers within an organization. It makes a compelling case for a customized approach with coaching at its core, and also provides very practical examples of approaches that have been successful across a wide range of organizations and individual situations." --
David Denison, President and CEO, Canadian Pension Plan Investment Board
"For multinational companies, if you have not identified your MVPs at all levels of leadership and put plans in place to develop and retain them, you will not be able to compete in the future. This book provides a comprehensive framework for understanding the theory and application of a talent management strategy as well as countless global examples of successful companies and their practice. This is a must read for executives, HR professionals or anyone in management involved in ensuring the right people in the right roles have a plan for ongoing coaching and development. If you already have a process in place, this book provides a great way to identify best practice to enable you to take your process to the next level! Enjoy!" -- Emily Lundi Mallett, Director, Global Learning and Organization Effectiveness, Beckman Coulter, Inc. 
"The author offers a compelling case to support the organization's MVPs...the 'go-to' people who are every company's most valuable and irreplaceable resources. Her guidance is superb and her examples and cases, excellent." -- Katherine D. Williams, Senior Director, Leadership and Organization Development, Genzyme Corporation 
"Coaching Corporate MVPs presents a comprehensive and elegant summary of not only the best practices - the 'what' - but also the best processes and purposes - the 'how' and 'why' - an organization can use to support the development of their most talented people/" -- Larry M. Starr, Director/Chair of Graduate Studies, Organizational Dynamic, School of Arts and Sciences, University of Pennsylvania 
See More
About Right Management.
Acknowledgments.
Chapter 1. MVPs and the Talent Crunch.
Chapter 2. Creating the Culture and Framework for Talent Management.
Chapter 3. The Use of Assessment Approaches and Tools to Identify and Develop Talent.
Chapter 4. Approaches to Leadership Development.
Chapter 5. Coaching MVPs and High-Potentials.
Chapter 6. Coaching the Failing MVP.
Chapter 7. Organizing External Coaching for the MVP.
Chapter 8. The Role of HR in Coaching and Talent Development.
Chapter 9. The Role of the Manager in Talent Development and Coaching.
Chapter10. Coaching Benefits and the Return on Investment.
Appendix 1. Participating Companies and People Interviewed.
Appendix 2. Assessment Tools and Approaches.
Index.
See More
Margaret Butteriss
is Senior Vice President, Organizational Consulting with Right Management and is the firm's Coaching Practice Leader for the Northeastern Region of the U.S. Margaret is a highly accomplished organization effectiveness, leadership development, and talent management professional. She has consulted to leading multi-national companies in many industries in the U.S., Canada, and Europe, both as a senior management team member and as an independent consultant. She has held senior HR and management positions at Shell International in the UK, Shell Canada, Ontario Hydro, and Fidelity Investments both in Canada and the U.S.
An accomplished speaker and writer, Margaret is the co-author of Corporate MVPs: Managing Your Company's Most Valuable Performers, and the author of Reinventing HR: Changing Roles to Create the High Performance Organization had Help wanted: The Complete Guide to Human resources for Canadian Entrepreneurs.
Right Management is the leading global provider of integrated human capital consulting services and solutions across the employment lifecycle, offering employee services in four areas: Attract & Assess, Develop, Engage & Align, and Transition. These services help clients maximize the return on investment in their people, while assisting individuals to achieve their full potential. Right Management has a global network of more than 300 service locations in over 50 countries and is part of the Manpower Group of companies, the leader in the world of work. Partnering with business and HR leaders at mid-sized and large companies, Right Management has over 3,100 employees, and serves 80% of the Fortune 500 and 50% of the Global 1000 companies. More Information on Right Management is available at www.right.com.
See More