E-book
Business Plans For Canadians For Dummies
ISBN: 978-0-470-15804-3
400 pages
May 2010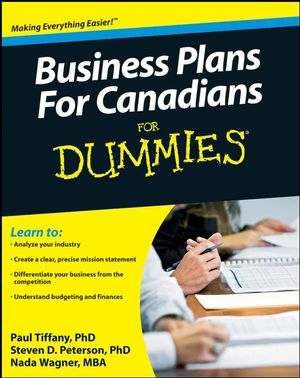 Build a winning business plan with expert tips and strategies
Creating a great business plan is the first and most vital step to business success. Packed with Canadian resources and anecdotes, this friendly guide takes you through the planning process. From scoping out the competition to planning for growth, this book is your ultimate reference for determining and meeting your business goals.
Business essentials — from creating your company's mission statement to setting goals and objectives

Competitive analysis — from analyzing your industry to tracking your competitors' actions

Market research — from identifying your market to meeting your customers' needs

Financial information — from reading income statements to understanding balance sheets

Forecasting and budgeting — from projecting your cash flow to creating a solid budget

Your business plan in action — from creating an effective organizational structure to fostering a strong company culture

Canadian examples — from inspirational success stories to cautionary tales
Open the book and find:
Where to track down the data you need to understand your business environment

How to identify your customers and reach them effectively

How to build upon your company's strengths and minimize its weaknesses

The components of a successful and sustainable business model

How to eliminate money woes through financial ratios

The secrets to the successes of many major Canadian and international companies

Strategies to help your company stand out in a crowd
See More
Introduction.
Part I: Knowing Where You Want to Go.
Chapter 1: Preparing to Do a Business Plan.
Chapter 2: Understanding the Importance of a Business Plan.
Chapter 3: Setting Off in the Right Direction.
Chapter 4: Charting the Proper Course.
Part II: Describing Your Marketplace.
Chapter 5: Examining the Business Environment.
Chapter 6: Slicing and Dicing Markets.
Chapter 7: Getting Better Acquainted with Customers.
Chapter 8: Checking Out Your Competition.
Part III: Weighing Your Company's Prospects.
Chapter 9: Assessing Where You Stand Today.
Chapter 10: Making Money Doing What You Do Best.
Chapter 11: Figuring Out the Financial Details.
Chapter 12: Forecasting and Budgeting.
Part IV: Looking to the Future.
Chapter 13: Managing Uncertainty.
Chapter 14: Thinking Strategically.
Chapter 15: Growing Up and Growing Bigger.
Part V: Putting Your Business Plan into Action.
Chapter 16: Shaping Your Organization.
Chapter 17: Leading the Way.
Part VI: The Part of Tens.
Chapter 18: Ten Signs That Your Business Plan Needs Refreshing.
Chapter 19: Ten Questions to Ask about Your Plan.
Chapter 20: Ten Business-Planning Never-Evers.
Appendix: A Sample Business Plan.
Index.
See More
Paul Tiffany, PhD:
Paul Tiffany is a Senior Lecturer at the Haas School of Business at the University of California, Berkeley, and an Adjunct Professor of Management at The Wharton School of the University of California. He teaches courses in strategic management, global strategy, and business and its environment to students in the graduate program as well as to participants in executive education programs. Dr. Tiffany is also a Visiting Professor at Sasin, the graduate school of business administration at Chulalongkorn University in Bangkok (Thailand), and CEIBS, the graduate school of business in Beijing (China). He received an MBA from Harvard University and a PhD from the University of California, Berkeley. In addition, he has provided management training programs to firms throughout the United States and the world. He can be reached at tiffany@haas.berkeley.edu.
Steven D. Peterson, PhD: Steven Peterson is founder and CEO of Strategic Play, a management training company specializing in hands-on software tools designed to enhance business strategy, business planning, and general management skills. He is the creator and developer of the Protean Strategist, a business simulation that reproduces a dynamic business environment where participant teams run companies and compete against each other in a fastchanging marketplace. Each team is responsible for developing a business plan along with the strategies and programs to put it to work. For more information, check out the Web site at www.StrategicPlay.com.
Steven has worked with both large and small companies around the world on strategy and business planning, strategic marketing, new product development, and product management. He uses the Protean Strategist simulation to help managers improve their skills in teamwork and collaboration across functional areas and even across cultures. Prior to founding Strategic Play, Steven served for many years as a consultant to companies in the United States and abroad. He holds advanced degrees in mathematics and physics and received his doctorate from Cornell University.
Nada Wagner, MBA: Nada Wagner is a business consultant, Principal of Next Wave Marketing Inc., and an instructor at The Business School, Humber Polytech in Toronto, Ontario. She consults on business planning, performance management, and teaches courses in entrepreneurship, marketing, and sales. Nada assisted numerous start-up ventures with business planning and implementation, and was the former Director, Centre of Entrepreneurship at Centennial College, Toronto, Ontario. Nada earned an MBA from Ivey School of Business, University of Western Ontario. She can be reached at nada.wagner@nextwavemarketing.ca.
See More