Why Teams Win: 9 Keys to Success In Business, Sport and Beyond
ISBN: 978-0-470-16043-5
224 pages
April 2009, Jossey-Bass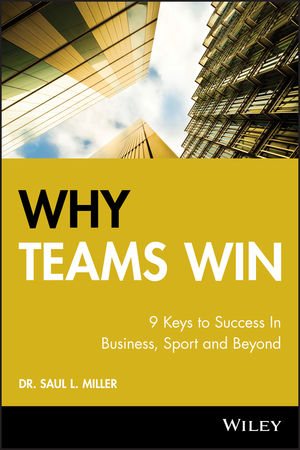 A leading sports psychologist reveals the 9 keys to winning, no matter what kind of team you're on-in business, sports, or life.
PRAISE FOR WHY TEAMS WIN
"Bursting with ideas, suggestions and great stories that the sports fan will love and the business person can use to create their own future. Dr. Miller's 'Nine Qualities' are bang on". - Gordon Huston, President & Chief Officer and Envision Member, Envision Credit Union 
"Saul Miller has for over 30 years made contributions to the success of teams, businesses, and athletes. Saul has used tried-and-true methods and introduced cutting-edge ways to help improve performance. Once again Saul has nailed it, sharing his knowledge and experience in Why Teams Win. This book will be part of my own preparations to get the best from teams that I coach." - Pat Quinn, Long-time Professional NNHL and International Hockey Executive, Coach, and Manager 
"Having worked closely with professional basketball coaches for over 25 years, I understand what goes into 'winning teams.' Dr. Miller gets right to the essence of winning in  a clear and easy-to-follow manner. It is a must read for anyone working for a 'W' for the team." - Michael H. Goldberg, Executive Director, MBA Coaches Association  
"Miller understands team behavior. In Why Teams Win he explains the real factors to team success. The book is a practical, clear, and concise guide to winning." - Davey Johnson, Baseball Star, World Series Winning Manager, AL Manager of the Year, Team USA Olympic and World Baseball Classic Manager 
"The Detroit Red Wings Hockey Club uses many, many of Dr. Saul Miller's 9 Keys to Success in his terrific book Why Teams Win. Your company can win too by using these time-tested principles. I recommend it to those who want to build a sustainable, first-class company." - Jim Devellano, Senior VP Detriot Red Wings (NHL) and Detriot Tigers (MLB) 
See More
Acknowledgements vii
Introduction 1
The Nine Qualities of Winning Teams 11
Chapter 1: A Sense of Purpose: A Meaningful Goal 15
Chapter 2: Talent 25
Chapter 3: Leadership 33
Chapter 4: The Game Plan 49
Chapter 5: Commitment 59
Chapter 6: Feedback 77
Chapter 7: Confidence 95
Chapter 8: Chemistry 107
Chapter 9: Identity 119
Chapter 10: Character and a Winning Formula 131
Chapter 11: Different Teams, Different Demands 157
Chapter 12: Applications and Team Exercises 169
References 191
Bibliography 199
Index 203
See More
Dr. Saul L. Miller
is a performance specialist consulting with super-achievers in world-class sport, business, healthcare, and the arts. One of North America's leading performance psychologists, he works in the areas of performance, productivity enhancement, team building, and helping people to be successful while dealing effectively with pressure, stress, and change.
Over the past 25 years, Dr. Miller's corporate clients have included Cisco, Nike, Sony, Visa, Canada Life, IBM, Envision, Investors Group, Cominco, Labatts, Motorola, Manulife, Telus, and 24 Hour Fitness. In the world of sport, his clients have included the New York Mets; Seattle Mariners; Los Angeles Dodgers, Rams, Clippers, and Kings; Vancouver Canucks; Florida Panthers; Nashville Predators; St. Louis Blues; PGA Tour golfers; as well as professional teams in Europe, and Canadian and U.S. Olympians in over a dozen different sports. He is the author of six other books.
For more information please visit www.saulmiller.com
See More