E-book
Do I Need to See the Doctor?: The Home-Treatment Encyclopedia - Written by Medical Doctors, 2nd Edition
ISBN: 978-0-470-16108-1
176 pages
March 2009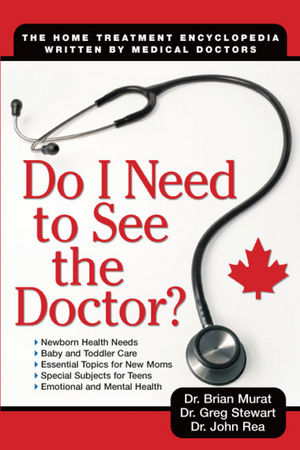 "
Do I Need to See the Doctor?
belongs in every household.... Its beauty lies in its simplicity; this book is about empowerment."
—
Ed Buffett, Chairman, Wellness Councils of Canada
With easy-to-follow flow charts and photographs, colour-coded chapters and over 70 health issues, Do I Need to See the Doctor offers Canadian parents the very best kind of support: peace of mind. Late-night fever? Sudden ear ache? Just flip open the book and follow the coloured flow charts. Parents will find a detailed, at-home care guide, as well as medical doctors' advice on when to be treated by a professional. Now you can rest assured that you know the very best ways to take care of your family's health needs, as well as exactly when to get help from a doctor or medical professional.
Better yet, because you have followed the same step-by-step treatment plan that doctors use, your arrival at the hospital or doctor's office is always warranted. This means fewer trips to the doctor, shorter wait times at the hospital, as well as professional guidance for you at home – this book truly is a must-have for every Canadian home, summer camp, school and cottage.
Inside, you will find at-home treatments for your entire family, through every age and stage:
Newborn Health Care                   
Baby and Toddler Care                               
Special Topics for New Moms
Topics for All Ages     
Special Topics for Teens
Mental and Emotional Health Care for the Whole Family
See More
The Family Medicine Chest 2
How to use this book 3
Fever 4
Topics for Mother and Newborn Child
Breast-feeding 8
Formula or Bottle-feeding 13
Feeding beyond Breast or Bottle 14
Jaundice 15
Umbilical Cord Care 17
Diaper Rash 18
Crying 20
Runny Eyes 22
Runny Nose 24
Cough 26
Skin Conditions 28
Immunization 31
Development/Growth 34
Topics for Mothers of Newborns
Bleeding Post-partum 38
Fever after Childbirth 40
Care of Your Episiotomy, Wound or Vaginal Tears 42
After Pains 44
Breast Pain 46
Mothers Constipated 47
Leg Pains and Cramps 49
Birth Control and Sexual Health 51
Post-partum Blues or Depression 53
Topics for Children
Fever 56
Cough and Cold and "the Flu" 59
Sore Throat 63
Earache 66
Vomiting or "the Stomach Flu" 70
Diarrhea 75
Constipation 79
Toilet Training 83
Special Topics for Teenagers
Acne 86
Starting Menstruation 89
Topics for Adults
Fever 94
Cough and Cold and "the Flu" 96
Sore Throat 99
Earache 102
Vomiting or "the Stomach Flu" 106
Diarrhea 100
Constipation 114
Problems with Urination 118
Sexual Dysfunction 124
Topics for All Ages
Conjunctivitis or "Pink Eye" 128
Heartburn 131
Bee Stings or Insects Bites 134
Strains and Sprains of the Limbs 137
Scrapes and Abrasions 140
Superficial Burns 143
Sunburn 146
Shortness of Breath 149
Asthma 153
Emotional or Mental Health
Depression 157
Substance Abuse 160
Anxiety Disorders 163
Psychotic Illness 166
Domestic Violence and Abuse 167
Problems with Sleep 169
Memory Problems and Dementia 172
General Information
Cold and Allergy Medicines 176
All About Decongestants 176
All About Anthistamines 177
How and When to Use Antibiotics 178
Handwashing 179
Sars, Bird Flu, West Nile Virus and Other Viral Infections 180
Dieting and Weight Loss 182
Exercise 185
Smoking 188
Disease Prevention and Detection 191
Heart Disease and Heart Attack 192
Stroke 193
Prevention of Heart Attack and Stroke 193
Detection and Prevention of Cancer 194
High Blood Pressure (Hypertension) 197
Sexually Transmitted Diseases 198
Visual Impairment and Eye Health 199
Diabetes 200
Index 202
About the authors 218
See More
Dr. Brian Murat
is a specialist in internal medicine and gastroenterology. Educated at Queen's University, his practice now includes comprehensive gastroenterology and emergency internal medicine.
Dr. Greg Stewart is a family physician, as well as staff physician in a hospital emergency department and coordinator of continuing medical education. Educated at Memorial University and Dalhousie University, he organizes an annual conference for family physicians from across Canada.
Dr. John Rea completed his medical training in Ottawa, which included a family medicine residency and Certificate of Special Competence in Emergency Medicine. His comprehensive family medicine practice includes obstetrics and emergency medicine.
See More