Smart Homes For Dummies, 3rd Edition
ISBN: 978-0-470-16567-6
432 pages
July 2007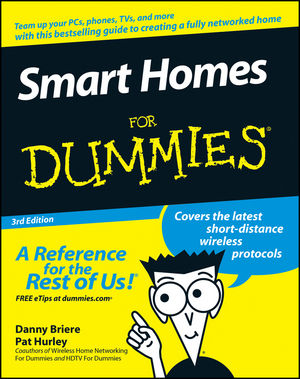 Do you long to listen to your favorite CD from anywhere in your house? To set up a wireless network so you can access the Internet in any room? To install an iron-clad security system? To fire up the coffee pot while you're still asleep and wake up with automated lighting? Smart home technology can help you do just that!
Smart Homes For Dummies, Third Edition, shows you how easy it can be to create and live in a cutting-edge, fully connected home—without breaking your bank account. With this user-friendly guide, you'll discover all the latest trends and gadgets in home networking, automation, and control that will help you make life more enjoyable and comfortable for your entire family. We help you plan for things such as flat-screen TVs, intercom systems, whole-home audio systems, gaming consoles, and satellite systems. We talk about your wiring (and wireless) options and introduce you to the latest technologies, such as VoIP and Bluetooth. You'll see how to:
Build your home network on a budget
Turn your home into an entertainment center
Access the Internet from any room
Get VoIP on your phone network
Boost in-home wireless and cell phone signals
Connect your computer to your TV
Secure your home and property
Increase your home's resale value
Avoid common networking pitfalls
And much, much more
Complete with a resource list for more information and neat toys of the future, Smart Homes For Dummies is your plain-English, twenty-first century guide to a fully wired home!
See More
Introduction 1
Part I: Future-Perfect Homes 9
Chapter 1: Mi Casa, Cool Casa 11
Chapter 2: Zen and the Art of Whole-Home Networking 23
Chapter 3: Cool Stuff Home Networks Can Do 47
Chapter 4: Timelines and Budgets 63
Part II: Making Your Home an Entertainment Center 71
Chapter 5: Breaking the Entertainment Bottleneck — Without Breaking the Bank 73
Chapter 6: Getting Video Where You Want It 95
Chapter 7: Wiring a Video Network 109
Chapter 8: Bringing You Music 129
Chapter 9: Running Audio Here, There, and Everywhere 145
Part III: Now We're Communicating! 165
Chapter 10: Planning a Phone System 167
Chapter 11: : Making the Phone Connection 193
Part IV: Livin' Off the Fat of the LAN 203
Chapter 12: A Cornucopia of Computers 205
Chapter 13: All Roads Lead to the Net 223
Chapter 14: Designing a Data LAN 247
Chapter 15: Choosing the Parts for a Wired Data LAN 259
Chapter 16: Alternatives to a Wired Data LAN 273
Part V: Keeping the Bad Guys at Bay — Security 295
Chapter 17: Home Security Boot Camp 297
Chapter 18: Wiring a Security System 313
Part VI: Putting It All Together — Home Automation and Control 323
Chapter 19: Home Automation Extravaganza 325
Chapter 20: Making Home Automation a Reality 345
Part VII: The Part of Tens 365
Chapter 21: Ten Common Pitfalls When Building Your Smart Home 367
Chapter 22: Top Ten Toys of the Future 373
Index 383
See More
Danny Briere
founded TeleChoice, Inc., a telecommunications consulting company, in 1985 and now serves as CEO of the company. Widely known throughout the telecommunications and networking industry, Danny has written more than one thousand articles about telecommunications topics and has authored or edited ten books, including
Internet Telephony For Dummies
,
Wireless Home Networking For Dummies (
now in its second edition)
, Wireless Hacks and Mods for Dummies, Windows XP Media Center Edition 2004 PC For Dummies,
and
Home Theater For Dummies
. He is frequently quoted by leading publications on telecommunications and technology topics and can often be seen on major TV networks, providing analysis on the latest communications news and breakthroughs. Danny splits his time between Mansfield Center, Connecticut, and his island home on Great Diamond Island, Maine, with his wife and four children.
Pat Hurley is Director of Research with TeleChoice, Inc., and specializes in emerging telecommunications and digital home technologies, particularly in all the latest consumer electronics, access gear, and home technologies, including wireless LANs, DSL, cable modems, satellite services, and homenetworking services. Pat frequently consults with the leading telecommunications carriers, equipment vendors, consumer goods manufacturers, and other players in the telecommunications and consumer electronics industries. Pat is the coauthor of Internet Telephony For Dummies, Smart Homes For Dummies, Wireless Home Networking For Dummies, Wireless Hacks and Mods for Dummies, Windows XP Media Center Edition 2004 PC For Dummies, and Home Theater For Dummies. He lives in San Diego, California, with his wife, a fiery red-headed toddler named Annabel, and two smelly dogs.
See More