E-book
Mastering Digital Audio Production: The Professional Music Workflow with Mac OS X
ISBN: 978-0-470-16576-8
591 pages
June 2007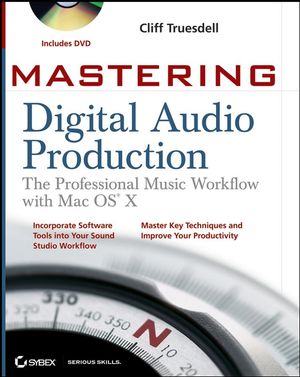 This comprehensive guide shows you how to integrate a variety of production tools for the Mac OS X platform into all stages of audio production so that you can create and produce music. From single applications to complete suites, you'll discover the software toolsets that are best for you and then discover how to incorporate them into a coherent workflow. Featuring best practices, real-world examples, and interviews with audio professionals, this book pulls together all the programs and tasks you need.
See More
Introduction.
Chapter 1: Optimizing Your System.
Chapter 2: Reason.
Chapter 3:  Ableton Live.
Chapter 4: Pro Tools.
Chapter 5: Logic.
Chapter 6: GarageBand.
Chapter 7: More Useful Software.
Chapter 8: Plug-in Effects.
Chapter 9: Virtual instruments.
Chapter 10: Apple Loops.
Chapter 11: MIDI.
Chapter 12: The Laptop Studio.
Chapter 13: Post Production.
Appendix A: The Bottom Line.
Index.
See More
Cliff Truesdell is a recording engineer, producer, and musician at Take Root Recording Studio in San Francisco. He also has recording credits as an arranger, multi-instrumentalist, and songwriter. Cliff cofounded the punk rock band Black Furies, which has released three CDs to date and continues to record and tour extensively. Cliff's original music has appeared in a variety of media, including video games and professional skateboard videos. Among his recent credits is a contribution to the soundtrack for Bravo's Queer Eye for the Straight Guy.
See More
Learn more about