Textbook
Introduction to Modern Liquid Chromatography, 3rd Edition
ISBN: 978-0-470-16754-0
Hardcover
960 pages
December 2009, ©2010
US $138.00

Add to Cart
This price is valid for United States. Change location to view local pricing and availability.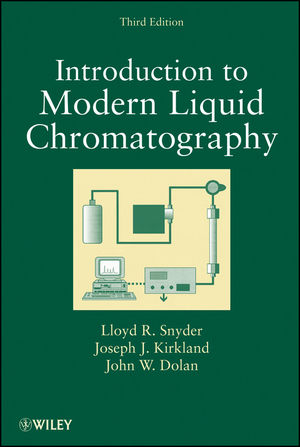 Other Available Formats:
E-book
November 20, 2009
Introduction to Modern Liquid Chromatography, 3rd Edition
Connect with Wiley Publicity
Hoboken, NJ —November 20, 2009—Wiley-Blackwell, the scientific, technical, medical and scholarly publishing business of John Wiley & Sons, Inc. (NYSE: JWa), (NYSE: JWb), have announced the publication of Introduction to Modern Liquid Chromatography, 3rd Edition, by Lloyd R. Snyder, Joseph J. Kirkland, and John W. Dolan.
The book provides an in-depth explanation of how high-performance liquid chromatography (HPLC), the most commonly used analytical technique in biochemistry, is performed. The text covers the necessary materials involved in the process, as well as its possible applications. The book's easy-to-read format is designed to be accessible to all HPLC users, from novices to experts.
The popularity of HPLC stems from its ability to separate a large variety of analytes, including organics, inorganics, and biomaterials, with low to high molecular weights and with different degrees of polarity, hydrophobicity, acidity and ionization. The development of highly sophisticated HPLC procedures has provided a sensitivity that allows investigators to accomplish important research in a wide variety of areas. The vast majority of biomedical and environmental analyses are currently performed by HPLC and it is the premier analytical technique in the chemistry field.
Widely referred to as "the Bible of HPLC", the previous edition has become a ubiquitous reference guide. The new edition strives to be more accessible to students, making it not only a reference volume, but also a learning tool. The practical HPLC knowledge included is intended to integrate questions of "what to do" and "why" into a single book, so as to satisfy readers at multiple levels from beginner to expert.
The new edition features the latest HPLC applications and technologies, including chiral compound separations and bioseparations, as well as an update of HPLC computer software and technology. This text presents a comprehensive survey of HPLC methods and applications written by practicing scientists for researchers and students of analytical chemistry and separation science and professionals at all degree levels using liquid chromatography.