Telephone Sales For Dummies
ISBN: 978-0-470-16836-3
292 pages
November 2007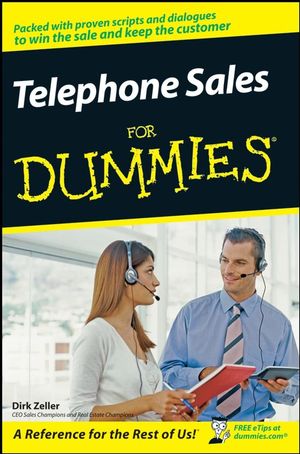 Nearly 100 million Americans (one out of three) purchase goods and services over the phone each year. Telephone Sales For Dummies shows both new and seasoned sales reps, from realtors, insurance agents to telemarketers, how to create pre-call plans and effectively prospect via the phone. Packed with techniques, scripts, and dialogues, this hands-on, interactive guide assists readers with making cold calls, warm calls, and referral calls, helping them plan and execute openings to create interesting dialogue; ask key questions; develop persuasive presentation techniques; work within the No Call Law parameters; leave effective and enticing voicemails that get results; get past screeners and get quality referrals; find hot leads; and create callback scripts that close the sale.
See More
Introduction.
Part I: Picking Up on Telephone Sales.
Chapter 1: Calling All Sales Professionals!
Chapter 2: Thriving as a Telephone-Sales Pro.
Chapter 3: Brave New World: The Laws of Telesales Land.
Part II: Laying the Groundwork for Telephone-Sales Success.
Chapter 4: Doing Your Homework for A-Plus Calls.
Chapter 5: Prospecting Your Way to Success.
Chapter 6: Conquering Sales Call Aversion.
Chapter 7: Investing Your Time Wisely.
Part III: You Make the Call!
Chapter 8: Getting Past the Gatekeeper.
Chapter 9: Opening Your Sales Call with Ease.
Chapter 10: Getting Out of the Answers and Into the Questions.
Chapter 11: Mastering the Art of Listening and Silence.
Chapter 12: Executing Powerful Presentations.
Part IV: Going for the Close.
Chapter 13: Overcoming Objections.
Chapter 14: Orchestrating a Successful Close.
Chapter 15: Moving Forward When You Don't Land the Sale.
Part V: Increasing Your Sales.
Chapter 16: Exploding Your Earnings through Behavioral Selling.
Chapter 17: Selling the Way Your Customer Wants to Buy.
Chapter 18: Staying Motivated to Succeed.
Part VI: The Part of Tens.
Chapter 19: Ten (Or So) Ways to Sound Like a Pro on the Phone.
Chapter 20: Ten Phrases to Banish from Your Vocabulary.
Chapter 21: Ten (Or So) Actions that Promote Phone-Sales Success.
Index.
See More
Dirk Zeller specializes in training and coaching sales people and speaks regularly at industry events. He is the author of the bestselling Success As a Real Estate Agent For Dummies.
See More