The Corsini Encyclopedia of Psychology, 4 Volume Set, 4th Edition
ISBN: 978-0-470-17024-3
2002 pages
January 2010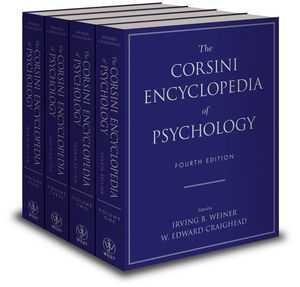 Psychologists, researchers, teachers, and students need complete and comprehensive information in the fields of psychology and behavioral science. The Corsini Encyclopedia of Psychology four-volume set has been the reference of choice for almost three decades. This indispensable resource is updated and expanded to include much new material. The Fourth Edition features over 1,500 entries; complete coverage of DSM disorders; and a bibliography of over 10,000 citations. Readers will benefit from up-to-date and authoritative coverage of every major area of psychology.
See More
"Raymond Corsini's classic work lives on in his fourth edition. Updating this title required a major effort; approximately 1,200 authors contributed articles. New topics include such entries as "Happiness," "Postpartum Depression," "Bisexuality," "Art Therapy," "Recovered Memories," "Premenstrual Syndrome," and "Atribution Theory." This set remains a valuable resource as the field of psychology continues to evolve." (
Choice
, July 2010)
"The availibility of the subject index offers the patient reader a chance to read about topics that are mentioned in passing rather than as main entries. The importance of this index to the reader cannot be overstated. The editors, Irving B. Weiner and W. Edward Craighead, are to be thanked for offering helpful devices for the researcher. For example, each volume begins with front matter that contains a list of all entries: Hence, the reader is not required to pull down one volume after another to continue researching a topic. Volume 4 contains a list and thumbnail information on 543 "important contributions to psychology" while 63 other persons are judged to be of such significance as to deserve fuller entries within the text itself. Volume 4 also includes an author and subject index, while Volume 1 lists the contributors. Entries are sometimes preceded by a helpful "see also" sign, and entries offer suggested readings meant to start the reader on a scholarly path. The Publisher is to be credited with producing attractive volumes, both well and sturdily bound, in an attractive gold print on deep blue.The typeface is clear and, important for an encyclopedia, of a size readily available. These are valuable characteristics of volumes intended to be opened, reopened, lifted, laid out, and studied." (PsycCRITIQUES, July 14, 2010)
"This 4 volume new edition of a classic work is remarkably comprehensive. The entries are detailed enough to help a novice and concise enough to provide a useful review to an experienced person. I particularly was impressed by the international scope of the entries.  It will be an indispensible resource for both university and public library users."
—
George Stricker,
Phd ABPP, Argosy University, Washington DC
See More