Multiple Emulsion: Technology and Applications
ISBN: 978-0-470-17093-9
326 pages
November 2007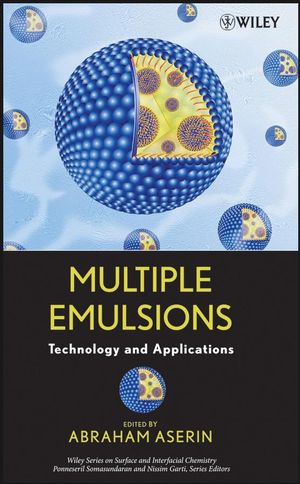 The Comprehensive, Single-Source Reference on Multiple Emulsions

In theory, multiple emulsions have significant potential for breakthrough applications in food, agricultural, pharmaceutical, nutraceutical, and cosmetic industries in which they can facilitate the sustained release and transport of active material. However, in practice, multiple emulsions are thermodynamically unstable. This book presents recent findings that can help formulators understand how to enhance their stability. With chapters contributed by leading experts from around the world, it covers the definition and properties of multiple emulsions, their formation and stability, and potential applications, with an emphasis on medical and pharmaceutical applications. In one definitive resource, it presents recent findings and achievements in the field, including:

New theoretical approaches and modeling to characterize the transport mechanism

Droplet size reduction and increased shelf life stability through the use of polymeric amphiphiles and complex adducts

The use of new emulsification techniques to enhance the monodispersibility of the droplets

Potential applications in drug delivery systems where clinical studies have proven their efficacy

This is a core, hands-on reference for surface and colloid scientists, physical chemists, chemical engineers, soft materials scientists, food chemists, controlled release scientists, and pharmaceutical scientists in drug delivery applications, as well as for graduate students in these disciplines. The editor and contributors hope this logical consolidation of current information will further the understanding of multiple emulsions and lead to new, practical applications.
See More
1. Multiple Emulsion Stability: Pressure Balance and Interfacial Film Strength by
J. Jiao and DJ Burgess
2. Structure and Rheology of Stable Multiple Emulsions by P. Perrin, F. Prigent, and Ph. H'ebraud
3. Visualization of Stability and Transport in Double Emulsions by Louise Braud Lawson and Kyriakos Papadopoulos
4. Effect of an Oil-insoluble Solute on the Stability of Multiple Water-Oil-Water Emulsions by Mouhcine Kanouni and Henri Rosano
5. Multiple Emulsions Stabilized by Biopolymers by Rachel Lutz and Abraham Aserin
6. Recent Developments in Manufacturing Particulate Products from Double Emulsion Templates Using Membrane and Microfluidic Devices by Goran T. Vladisavljevic and Richard A. Williams
7. Recent Developments in O/W/O Multiple Emulsions by A. Benichou and A. Aserin
8. Potentialities of W/O/W Multiple Emulsions in Drug Delivery and Detoxification by Jean-Louis Grossiord and Moncef Stambouli
9. Surface-Modified Fine Multiple Emulsions for Anticancer Drug Delivery by Ajay J. Khopade and N.K. Jain
10. Application of Emulsion Technology to Transarterial Injection Chemotherapy for Hepatocellular Carcinoma Using Double Emulsion Enclosing Vesicles of Anticancer-Drug Solution by Shushi Higashi
11. Lipiodol W/O/W Emulsion for Transcatheter Arterial Embolization Therapy Prepared with Two-step Pumping Emulsification Method by Tomoaki Hino and Takayuki Ohwaki
12.  Multiple Emulsions: Delivery System for Antigens by Asuman Bozkir and Ongun Mehmet Saka
See More
Abraham Aserin, PhD, is a researcher at the Casali Institute of Applied Chemistry at the Hebrew University of Jerusalem, Israel. His research is focused on many practical facets of surfactant chemistry, such as emulsions, microemulsions, lyotropic liquid crystals, dispersions, and improvement of drug bioavailability. Dr. Aserin received BSc and MSc degrees from the Hebrew University of Jerusalem, Israel, in 1978 and 1981, respectively. He earned his PhD in surfactant chemistry there in 1987 under the supervision of Professor Nissim Garti.
See More
More in this series