Teach Yourself VISUALLY Outlook 2007
ISBN: 978-0-470-17124-0
303 pages
July 2007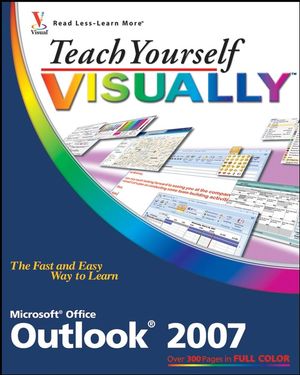 Are you a visual learner? Do you prefer instructions that show you how to do something - and skip the long-winded explanations? If so, then this book is for you. Open it up and you'll find clear, step-by-step screen shots that show you how to tackle more than 140 Outlook 2007 tasks. Each task-based spread includes easy, visual directions for performing necessary operations, including:
Entering and using contacts
Setting up and sorting e-mail
Forwarding to your mobile device
Subscribing to an RSS feed
Publishing calendars to the Web
Tracking your tasks and to-dos
Helpful sidebars offer practical tips and tricks
Full-color screen shots demonstrate each task
Succinct explanations walk you through step by step
Two-page lessons break big topics into bite-sized modules
See More
Chapter 1: Exploring Outlook.
Start and Exit Outlook 2007.
What You Can Do with Outlook 2007.
Understanding the Outlook Interface.
Understanding the Mail Component.
Understanding Message Windows.
Understanding the Calendar Component.
Understanding Calendar Windows.
Understanding the Contacts Component.
Understanding Contact Windows.
Understanding the Tasks Component.
Understanding Task Windows.
Manage Daily Priorities with the To-Do Bar.
Perform an Instant Search.
Get Help.
Chapter 2: Creating and Using Outlook Contacts.
Create a Contact.
Import Contacts.
View a Contact.
Update a Contact.
Add a Picture to a Contact.
Attach a File to a Contact.
Locate an Address with Contacts Maps.
Create an Electronic Business Card.
Chapter 3: Organizing and Sharing Outlook Contacts.
Change Views.
Sort Contacts.
Customize the Sort Operation.
Resolve Duplicate Contacts.
Export Contacts.
Forward a Contact.
Print Your Outlook Contacts.
Chapter 4: Handling Incoming E-mail.
Set Up an E-mail Account.
Retrieve and View E-mail Messages.
Preview and Open Attachments.
Print an E-mail Message.
Mark a Message as Read or Unread.
Flag a Message for Follow-Up.
Sort Messages.
Organize Messages Using Rules.
Filter Junk E-mail.
Clean Up Your Mailbox.
Chapter 5: Composing and Sending E-mail Messages.
Reply to a Message.
Forward a Message.
Compose and Send a New Message.
Save a Message as a Draft.
Create a Distribution List.
Attach a File.
Insert a Photo.
Proofread Your Message.
Translate Text.
Format Message Text.
Use Outlook Stationery and Themes.
Add an E-mail Signature.
Use an E-mail Postmark.
Encrypt a Message.
Recall a Message.
Set Up an Out-of-Office Reply.
Chapter 6: Text Messaging in Outlook.
Enable Text Messaging in Outlook.
Send a Text Message.
Create a Signature for Text Messages.
Forward Outlook Information to Your Mobile Device.
View the Online Status of an IM Cont.
Chapter 7: Using RSS Feeds.
Detect RSS Feeds with a Web Browser.
Subscribe to an RSS Feed with a Web Browser.
Subscribe to an RSS Feed within Outlook.
Subscribe to a Shared Feed.
Import Feeds.
View a Feed Post.
Download Enclosures as Attachments.
Share an RSS Feed.
Export a Group of Feeds.
Unsubscribe from a Feed.
Chapter 8: Using the Outlook Calendar.
Switch Calendar Views.
Change Your Calendar's Appearance.
Schedule an Appointment.
Schedule an Event.
Plan a Meeting.
Attach a File to a Calendar Entry.
Open a Calendar Entry.
Edit a Calendar Entry.
Create Additional Calendars.
View Calendars in Overlay Mode.
Create a Group Schedule.
Send a Calendar Snapshot.
View a Calendar Snapshot.
Publish a Calendar on Office Online.
View and Subscribe to a Calendar on Office Online.
Subscribe to an Internet Calendar.
Save a Calendar as a Web Page.
Print a Calendar.
Chapter 9: Using Outlook's Task Component.
Create a New Task.
Attach a File to a Task Entry.
Sort Tasks.
View a Task Entry and Explore Editing Options.
Link a Task to a Contact.
Delegate a Task.
Accept or Decline a Task Assignment.
Send a Status Report for a Task.
Mark a Task as Complete.
Print Your Task List and Task Items.
Chapter 10: Using Notes and Journal Entries.
Create a Note.
View Notes.
Sort Notes.
Print Notes.
Record Journal Entries Automatically.
Add a Journal Entry Manually.
View a Journal Entry.
Print a Journal Entry.
Chapter 11: Managing Outlook.
Create a Folder.
Add a Folder to Your Favorites.
File an E-mail Message in a Folder.
Work with Outlook Offline.
Categorize an Outlook Item.
Mark an Outlook Item as Private.
Search for Outlook Items.
Create a Custom Search Folder.
Password-Protect Outlook Information.
Use Trust Center to Keep Outlook Safe.
Diagnose a Problem with Office Diagnostics.
Archive Outlook Files.
View and Restore Archived Files.
Delete Outlook Items.
Chapter 12: Customizing Outlook.
Hide and Display Ribbon Commands.
Customize the Quick Access Toolbar.
Customize Outlook Today.
Customize the To-Do Bar.
Customize the Navigation Pane.
Customize the Reading Pane.
Change Which Outlook Component Launches by Default.
Set E-mail Options.
Change Spelling and AutoCorrect Options.
Set Calendar Options.
Set Tasks Options.
Set Contact Options.
Set Note Options.
Set Search Options.
See More
During the course of her career as a freelance writer, Kate Shoup has written or co-written several books on various topics, including Look & Learn FrontPage 2002, What Can You Do with a Major in Business, Not Your Mama's Beading, Not Your Mama's Stitching, Windows Vista Visual Encyclopedia, and Webster's New World English Grammar Handbook. She has also co-written a screenplay, and worked as the Sports Editor for NUVO Newsweekly. Prior to striking out on her own, Kate worked as an editor at a computer-publishing company, where she engaged in such diverse professional activities as consulting on the development of new series, consulting on ways to improve the publishing workflow, and editing numerous standout titles. When not writing, Kate loves to ski (she was once nationally ranked), make jewelry, and play video poker — and she plays a mean game of 9-ball. Kate lives in Indianapolis, Indiana, with her daughter.
See More