Managing for Sales Results: A Fast-Action Guide for Finding, Coaching, and Leading Salespeople
ISBN: 978-0-470-17327-5
224 pages
December 2007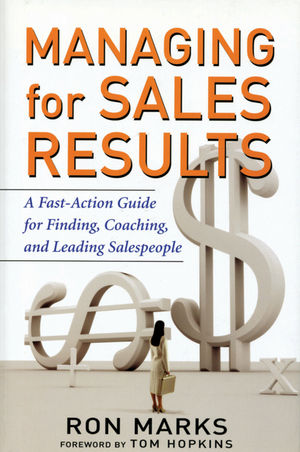 This book looks at various methods for recruiting salespeople, from the traditional to the radical, and shows you how to make the smartest, most profitable hiring decisions for your team. It argues that sales managers should put more emphases on coaching and recruiting, making it a priority for your sales organization. With the right recruiting and training strategies, you can find a constant stream of qualified candidates and beat your competitors to the best sales prospects.
See More
Foreword.
Acknowledgments.
Introduction.
1. Sales Management Versus Sales Leadership.
2. Building an Effective Performance Dedicated Team.
3. Results-Targeted Interviewing and Hiring.
4. Training Your Sales Organization to Produce Superior Results Consistently.
5. How to Run Sales Meetings That Matter.
6. Motivating and Counseling Your Sales Force.
7. Handling Terminations Easier and Better.
Conclusion.
See More
Ron Marks began conducting sales management seminars in conjunction with internationally known sales trainer Tom Hopkins in 1999. He has since trained well over 50,000 sales managers on how to recruit, hire, train, motivate, and fire salespeople with efficiency. In addition to managing his own company, Ron teaches?sales management at Paradise Valley Community College in Phoenix, Arizona. For more information, visit Ron's web site at www.resultsseminars.com.
See More