E-book
Handbook of Psychological Assessment, Case Conceptualization, and Treatment, Volume 1: Adults
ISBN: 978-0-470-17356-5
625 pages
May 2008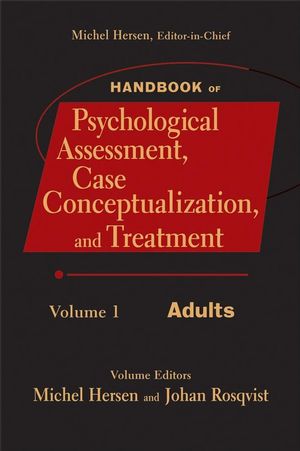 Edited by recognized experts Michel Hersen and Johan Rosqvist, Handbook of Psychological Assessment, Case Conceptualization, and Treatment, Volume 1, Adults, is a thorough and practical reference for those working with adults. Bringing together the most current theories and evidence-based applications, chapters address issues of importance including ethics, medical issues, panic and agoraphobia, obsessive-compulsive disorder, and posttraumatic stress disorder. Each chapter follows a structured format, opening with an overview of assessment, followed by case conceptualization, and, finally, recommended treatment.
See More
Preface to Volume 1 vii
Acknowledgments ix
Contributors xi
Part I GENERAL ISSUES
1 Overview of Behavioral Assessment with Adults 3
Maureen C. Kenny, Krissan Alvarez, Brad C. Donohue, and Charles B. Winick
2 Diagnostic Issues 26
Naomi R. Marmorstein and William G. Iacono
3 Behavioral Conceptualization 48
Sara Wright and Paula Truax
4 Overview of Behavioral Treatment with Adults 76
William H. O'Brien and Heather Schwetschenau
5 Medical and Pharmacological Issues in Assessment, Conceptualization, and Treatment 95
Jean Cottraux
6 Ethical Issues 123
Catherine Miller
Part II ASSESSMENT, CONCEPTUALIZATION, AND TREATMENT OF SPECIFIC DISORDERS
7 Specific Phobias 139
Derek R. Hopko, Sarah M. C. Robertson, Laura Widman, and C. W. Lejuez
8 Panic and Agoraphobia 171
Maria Nazarian and Michelle G. Craske
9 Social Anxiety Disorder 204
Luke T. Schultz, Richard G. Heimberg, and Thomas L. Rodebaugh
10 Obsessive-Compulsive Disorder 237
Throstur Bjorgvinsson and John Hart
11 Posttraumatic Stress Disorder 263
William J. Koch and Michelle Haring
12 Generalized Anxiety Disorder 291
Kathryn A. Sexton, Kylie Francis, and Michel J. Dugas
13 Major Depressive Disorder 319
Marlene Taube-Schiff and Mark A. Lau
14 Schizophrenia 352
Dennis R. Combs, Michael R. Basso, Jill L. Wanner, and Sumer N. Ledet
15 Borderline Personality Disorder 403
Alissa Sherry and Margaret R. Whilde
16 Other Personality Disorders 438
Brian P. O'Connor
17 Bulimia Nervosa 463
Tiffany M. Stewart and Don A. Williamson
18 Organic Disorder 498
Gerald Goldstein
19 Alcohol Abuse 522
F. Michler Bishop
Part III SPECIAL ISSUES
20 Marital Distress 563
Brian D. Doss, Alexandra E. Mitchell, and Felicia De la Garza-Mercer
21 Sexual Deviation 590
W. L. Marshall, G. A. Serran, L. E. Marshall, and M. D. O'Brien
22 Adults with Intellectual Disabilities 616
Peter Sturmey
23 Older Adults 646
Barry A. Edelstein, Sarah A. Stoner, and Erin Woodhead
24 Insomnia 674
Daniel J. Taylor, Christina M. McCrae, Philip Gehrman, Natalie Dautovich, and Kenneth L. Lichstein
25 Health Anxiety and Its Disorders 701
Gordon J. G. Asmundson and Steven Taylor
26 Compulsive Hoarding 728
Suzanne A. Meunier, Nicholas A. Maltby, and David F. Tolin
Author Index 753
Subject Index 785
See More
Michel Hersen, Ph.D., ABPP
, Editor-in-Chief and Volume 1 co-editor, is Professor and Dean of the School of Professional Psychology at Pacific University in Forest Grove, Oregon. He has edited numerous books, including the
Comprehensive Handbook of Psychological Assessment
, four-volume set (Wiley), the
Comprehensive Handbook of Personality and Psychopathology
, three-volume set (with Jay C. Thomas, Wiley), and
Adult Psychopathology and Diagnosis
, now in its fifth edition (with Samuel Turner, Wiley).
Johan Rosqvist, Psy.D., Volume 1 co-editor, is Assistant Professor of Psychology at Pacific University in Forest Grove, Oregon.
See More