Six Sizzling Markets: How to Profit from Investing in Brazil, Russia, India, China, South Korea, and Mexico
ISBN: 978-0-470-17888-1
374 pages
May 2008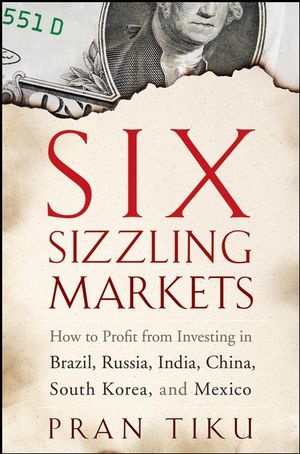 In Six Sizzling Markets, seasoned financial veteran Pran Tiku lays out a detailed and balanced case for investing in the emerging economics of Brazil, Russia, India, China (BRIC), South Korea, and Mexico. Along the way, he analyzes each nation's investment opportunities on the basis of eight tenets and takes a detailed look at the most lucrative industries within those countries. Filled with in-depth insights and expert advice, Six Sizzling Markets can help you profit from promising emerging world markets.
See More
Preface.
Acknowledgments.
Introduction.
Chapter 1 Why Invest in These Six Sizzling Markets?
Chapter 2 Passion and Paradox: The History of Brazil.
Chapter 3 The Real World: Brazil from 1994 to Today.
Chapter 4 A Land of Opportunity: Investing in Brazil.
Chapter 5 Catching up with the West: The History of Russia.
Chapter 6 Blind Turns and Growing Pains: Russia from 1998 to Today.
Chapter 7 Resources to Rubles in a New World Economy: Investing in Russia.
Chapter 8 A State of Mind: The History of India.
Chapter 9 Shadows to Sunshine: India from 1991 to Today.
Chapter 10 Power in Numbers: Investing in India.
Chapter 11 Tradition, Truth, and Transformation: The History of China.
Chapter 12 Calculated Conduct: China from 1978 to Today.
Chapter 13 Manufacturing a Future: Investing in China.
Chapter 14 A Peninsula of Perseverance: The History of Korea.
Chapter 15 A Blessing in Disguise: Korea from 1993 to Today.
Chapter 16 High Profits in a Tricky Neighborhood: Investing in Korea.
Chapter 17 Revolution and Exclusion: A History of Mexico.
Chapter 18 Democracy and a Free Economy: Mexico from 1994 to Today.
Chapter 19 The Second Mexican Independence: Investing in Mexico.
Chapter 20 Tips for Investing in the Six Sizzling Markets.
Appendix A Country Profiles.
Appendix B World Economic Forum's Global Competitiveness Index for the Six Sizzling Markets.
Appendix C Governance Indicators.
Appendix D American Depository Receipts (ADRs).
Appendix E Mutual Fund Profiles by Country.
Appendix F BRIC Fund Profiles.
Appendix G Just Ask the Experts.
Bibliography.
Glossary.
Index.
See More
Pran Tiku is founder and Principal of the financial planning firm Peak Financial Management, Inc., and has offered investment and gen-eral financial planning advice since the firm was founded in 1991. In 2007, Tiku was named as one of Worth magazine's top 100 national financial advisors for the fourth consecutive year. He has twice been recognized by Medical Economics magazine as one of the best financial advisors for doctors. Tiku's investment expertise has helped his firm's clients achieve great financial success by effectively navigating through the murky waters of today's investment world. He is widely quoted in the press and appears frequently on CNBC, CNN, and NECN, among many other national and local television and radio outlets. Tiku has also written for, been quoted in, and been written about in such publications as Forbes, the Wall Street Journal, the Washington Post, and the Boston Globe.
See More