Communication Counts: Business Presentations for Busy People
ISBN: 978-0-470-17894-2
236 pages
June 2008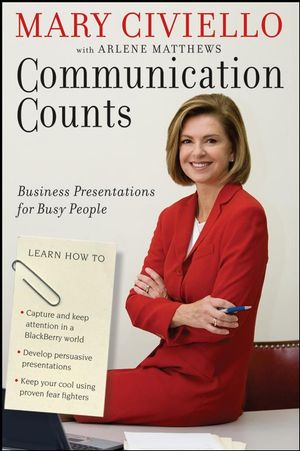 Communication Counts differentiates itself from other books on communication, presentation, and media relations because it directly confronts the biggest challenges facing anyone who needs to communicate anything today: listeners' time constraints and distractions. Written by renowned communications expert Mary Civiello, this detailed book offers a unique "modular" approach that will enable you to say what you need to say, in a way that it can best be heard and remembered, in a time frame that can be suited to any situation.
See More
Acknowledgments.
Introduction: Be Bright, Be Brief, Be Gone.
Part I: A Word in Edgewise.
Chapter 1 Your Lips Are Moving…but Is Anyone Listening?
Chapter 2 Message in a Module.
Chapter 3 The Fear Factor.
Part II: Message Boot Camp.
Chapter 4 Audience: The "What's In It For Me?" Principle.
Chapter 5 Substance: What's Your Headline?
Chapter 6 Style: "V" Is for…Visual, Vocal, and Verbal.
Chapter 7 Time Sense: The Lincoln Legacy.
Part III: Presentation Situations.
Chapter 8 Hold That Elevator: The One-Minute Message.
Chapter 9 Meeting Modules: The Meeting Meat Without the Fat.
Chapter 10 Main Attraction Modules.
Chapter 11 The Power To Cure PowerPoint and Master Other Visual Aids.
Chapter 12 "That's A Good Question": Handling Q&A.
Chapter 13 Sharing the Stage: Panels and Team Presentations.
Chapter 14 A Moveable Feast: Presenting to International Audiences.
Part IV: Managing Your Media Moment.
Chapter 15 Reporters and Those They Report To.
Chapter 16 Making Your Message The Story.
Chapter 17 Serve It With Spice.
Chapter 18 Making the Most of Your Moment.
Part V: A Last Word.
Chapter 19 Oh No! Dealing with Worst-Case Scenarios.
About the Author.
Index.
See More
Mary Civiello is President of Civiello Communications Group (CCG), a media and presentation consultancy, and a former New York City television journalist for WNBC in New York, CNBC, and MSNBC. In her twenty years reporting and anchoring the news, Civiello won six Emmys and the prestigious Deadline Club Award from the Society for Professional Journalists. As a media and presentation coach, she was dubbed the corporate executive's "Communications Guru" by the New York Times.
Arlene Matthews is the author and coauthor of numerous books on business communications, stress management, and popular psychology. Her work has also appeared in Money magazine, the Washington Examiner, and other publications.
See More
Learn more about