Textbook
Emerging Theories in Health Promotion Practice and Research, 2nd Edition
ISBN: 978-0-470-17913-0
624 pages
November 2009, ©2009, Jossey-Bass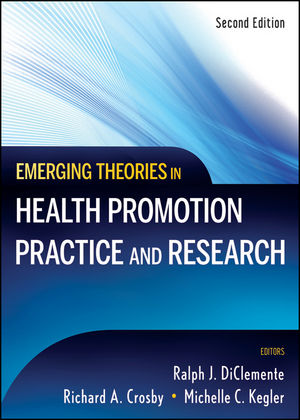 "Here is a 'must-read' for all health promotion researchers and practitioners eager to stay one step ahead of the pack. A panoply of insightful and promising new approaches is presented for consideration and exploration in our contemporary behavioral science arsenal."
— M. Elaine Auld, MPH, CHES, Chief Executive Officer, Society for Public Health Education
"This book is an essential addition to the health practice and research literature, concentrating on theories that have not been extensively covered elsewhere and that have great currency. It provides an up-to-date rendition on the interplay among contemporary public health concerns, sound public health practice, and the theoretical bases for practice."— Robert M. Goodman, PhD, MPH, Dean and Professor, School of Health, Physical Education, and Recreation, Indiana University
"The authors of Emerging Theories provide vivid descriptions of the state of the science in health promotion and presents an exciting map for future research. Understanding and using theories is the hallmark of an excellent practitioner. Creating and elaborating theories is the mark of an excellent researcher. This text will be very valuable for both."
— Noreen M. Clark, PhD, Myron E. Wegman Distinguished University Professor; Director, Center for Managing Chronic Disease, University of Michigan
"Emerging Theories captures the dynamic growth in theories of health promotion and illustrates how divergent theoretical perspectives are being integrated into richer explanatory and practice models."
— Matthew W. Kreuter, PhD, MPH, Professor of Social Work and Medicine; Director, Health Communication Research Laboratory, Washington University in St. Louis
See More
Tables and Figures.
Foreword.
Acknowledgements.
The Editors.
The Contributors.
Introduction.
1 Theory in health Promotion Practice and Research (Richard A. Crosby, Michelle C. Kegler, Ralph J. DiClemente).
Part 1 Individual-level Approaches.
2 The Information-Motivation-Behavioral Skills Model of HIV Preventive Behavior (Jeffrey D. Fisher, William A. Fisher, Paul A. Shuper).
3 Social Influences: The Effects of Socialization, Selection, and Social Normative Processes on Health Behavior (Bruce G. Simons-Morton, Denise Haynie, Elizabeth Noelcke).
4 Self-esteem Enhancement Theory: Promoting Health across the Life-Span (David L. DuBois, Brian R. Flay, Michael C. Fagen).
5 Conservation of Resources Theory: Application to Public Health Promotion (Stevan E. Hobfoll, Jeremiah A. Schumm).
6 Self-Determination Theory: Process Models for Health Behavior Change (Michelle S. Fortier, Geoffrey C. Williams Shane N. Sweet, Heather Patrick).
7 The Elaboration Likelihood Model of Persuasion: Developing Health Promotions for Sustained Behavioral Change (Richard E. Petty, Jamie Barden, S. Christian Wheeler).
8 An Integrative Model for Behavioral Prediction and its Application to Health Promotion (Martin Fishbein).
Part 2 Community-Based Approaches.
9 The Community Coalition Action Theory (Frances D. Butterfoss and Michelle C. Kegler).
10 Community Capacity: Theory and Application (Monica L. Wendel, James N. Burdine, Kenneth R. McLeroy, Angela Alaniz, Barbara L. Norton, Michael R.J. Felix).
11 Natural Helper Models to Enhance a Community's Health and Competence (Eugenia Eng, Scott D. Rhodes, Edith Parker).
12 Community-Based Prevention Marketing: A Hybrid Framework for Public Health Professionals (Carol A. Bryant, Kelli R. McCormack Brown, Rita D. Debate, Moya L. Alfonso,  Julie A. Baldwin, Paul Monaghan, Leah M. Phillips).
Part 3 Ecological Approaches.
13 Changing Our Unhealthy Ways: Emerging Perspectives from Social Action Theory (Craig K. Ewart).
14 The Theory of Gender and Power: Constructs, Variables, and Implications for Developing HIV Interventions for Women (Gina M. Wingood, Christian Camp, Kristin Dunkle, Hannah Cooper, Ralph J. DiClemente).
15 The Logical and Empirical Basis for the Behavioral Ecological Model (Mel Hovell, Dennis Wahlgren, Marc Adams).
16 The Theory of Triadic Influence (Brian R. Flay, Frank Snyder, John Petraitis).
17 The Interactive Domain Model Approach to Best Practices in Health Promotion (Barbara Kahan, David Groulx, Josephine Pui-Hing Wong).
18 COMBI – Communication-for-Behavioral-Impact: A WHO Approach to Social Mobilization in the Promotion of Health (Everold Hosein, Will Parks, Renata Schiavo).
19 Issues and Challenges in Applying Theory to Health Promotion Practice and Research (Ralph J. DiClemente, Michelle C. Kegler, Richard A. Crosby).
References.
Index.
See More
Ralph J. DiClemente
, PhD, is Charles Howard Candler Professor of Public Health and Pediatrics, Division of Infectious Diseases, Epidemiology, and Immunology and associate director, Emory Center for AIDS Research.
Richard A. Crosby, PhD, is DDI Endowed Professor and chair, Department of Health Behavior, College of Public Health, University of Kentucky.
Michelle C. Kegler, DrPH, MPH, is associate professor and deputy director, Emory Prevention Research Center, in the Department of Behavioral Sciences and Health Education in the Rollins School of Public Health, Emory University.
See More
"This book successfully addresses a need in the field to advance understanding of new directions for research and how emerging science can enhance practice. Many topics and approaches to health promotion covered in this book are not covered in other well-regarded books  This edition of Emerging Theories adds new information and includes revisions that reflect the most recent and innovative thinking and research findings." – Doody's Publishing
See More
Instructors Resources
Contact your Wiley Representative
Find Your Rep

See More
See Less
Learn more about