Inspired Marketing!: The Astonishing Fun New Way to Create More Profits for Your Business by Following Your Heart
ISBN: 978-0-470-18364-9
224 pages
March 2008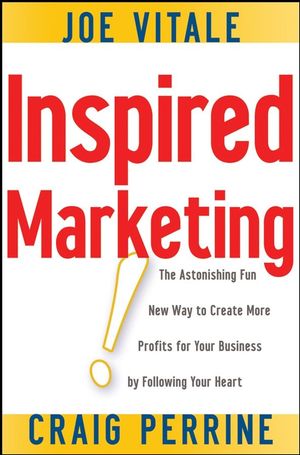 Inspired Marketing! presents the inside secrets of today?s most successful marketers. If you sell anything, this handy, practical, rainmaking guide reveals a new way to sell without resorting to hype, scare tactics, or manipulation using an amazing step-based model anyone can apply. If you?re a salesperson or marketer who knows that the old tactics no longer work and that long-term success requires fresh ideas, this is the perfect guide for you.
See More
Introduction.
"How to Create the Most Unusual and Unforgettable Marketing of Your Life" With (Joe Vitale and Craig Perrine).
Dread Marketing? Not any more...With (Amy Scott Grant).
So, you want a BIG success story? With (Armand Morin)
What Happens When Proven Marketing Know How Meets Inspiration? With (Bill Hibbler).
How Asking The Right Questions Can Spark Out of This World Inspiration...With (Cindy Cashman).
101 Reasons To Follow Your Inspiration...With (David Riklan).
How To Tell The Difference Between Inspiration...And A Wild Goose Chase With (David Garfinkel).
Give What You Love And The Money Will Follow...With (Lisa Coltman)
The Secret to Inspired Marketing is ________ With (Mark Joyner).
Follow the Chain of Inspiration...With (Mark Ryan).
A Heartfelt Story Heard Around The World...With (Michel Fortin and Sylvie Fortin).
A View of Faith, Success, Search Engine Savvy, and Inspiration From a Bench in Beulah, Colorado With (Nathan Anderson).
From Blues Guitar to Portable Empire...One Man's Inspired, Fun, and Even 'Clueless' Journey With (Pat O'Bryan).
Yes! It Can Be That Easy If You Say 'Yes' To Inspiration...With (Suzanne Burns).
Call to Action.
About the Authors.
See More
Joe Vitale is President of Hypnotic Marketing, Inc., a marketing consulting firm. He has been called the "Buddha of the Internet" for his combination of spirituality and marketing acumen. His professional clients include the Red Cross, PBS, Children's Memorial Hermann Hospital, and many other small and large businesses. He is one of the stars of the hit movie The Secret, and the author of many books, including The Attractor Factor, The Seven Lost Secrets of Success, and The Key, all from Wiley. For more information, please visit www.mrfire.com.
Craig Perrine, of MaverickMarketer.com, is a leading Internet marketing strategist and featured speaker at many of the industry's top seminars. Using his relationship-based marketing methods, he has generated millions in sales for companies ranging from software start-ups to the Fortune 500. He is a sought-after consultant specializing in permission e-mail marketing and has been featured in many bestselling books and courses. For more information, please visit www.maverickmarketer.com.
See More