Microsoft Office Publisher 2007 For Dummies
ISBN: 978-0-470-18496-7
384 pages
December 2007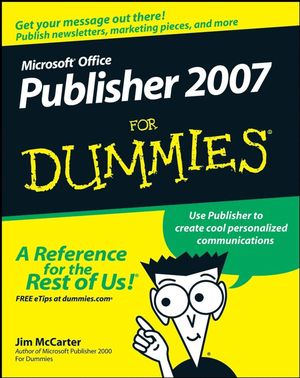 This is supposed to be the age of instant and constant communication, right? And if you have a business, belong to an organization, or have a cause you want to promote, a great-looking flyer or brochure can say a lot.
If you have Microsoft Office Professional, Small Business, or Ultimate on your PC, you already have a great communication tool hidden inside—Publisher 2007. Use it to promote your organization with newsletters, cards, and brochures. This book gets you started with Publisher basics so you can start communicating with your public.
Chances are you're not planning to become a Publisher guru; you just want to use Publisher to get some things done. Then Microsoft Office Publisher 2007 For Dummies is just the book for you! It has just what you need to know to
Understand design basics and plan a page
Set up a flyer or publication and place text and pictures where they work best
Use various Publisher templates
Incorporate images and files from other programs
Build Web sites with Publisher
Prepare your creations for printing or posting online
Whether you're selling a product or service, getting the word out about a not-for-profit organization, or helping out your church, synagogue, or school, Microsoft Office Publisher 2007 For Dummies makes it easy.
See More
Introduction.
Part I: Getting Acquainted with Publisher 2007.
Chapter 1: Own the Printing Press.
Chapter 2: Success by Design.
Chapter 3: Basic Training.
Part II: Mark This Page.
Chapter 4: Working with Pages.
Chapter 5: Objects and Frames.
Part III: 10,000 Words, One Maniac.
Chapter 6: Getting the Word.
Chapter 7: Editors Are Bought, Not Born.
Chapter 8: Vintage Type: The Corkscrew, Please.
Part IV: A Picture Is Worth $6.95.
Chapter 9: You Ought to Be in Pictures.
Chapter 10: Color by the Numbers.
Chapter 11: Grappling with Graphics Manager.
Part V: Proof Positive.
Chapter 12: Final Checks.
Chapter 13: Printing, Print Shops, and Paper.
Part VI: Publishing on the Internet.
Chapter 14: Weaving a Web Site.
Chapter 15: Getting Published (On the Internet).
Part VII: The Part of Tens.
Chapter 16: Ten Great Design Ideas.
Chapter 17: Ten Design Blunders.
Chapter 18: Not Quite Ten Things to Check before Printing.
Chapter 19: Ten Questions for Your Print Service.
Chapter 20: Ten Ways to Save on Printing Costs.
Index.
See More
Jim McCarter
attended Webster University in Vienna, Austria, where he minored in foreign languages and graduated with a bachelor's degree in computer studies. There he also launched his career as a computer consultant, which spanned more than 18 years. Jim has authored several books and served as technical reviewer for more than 80 books. He now works as a project manager in the field of wireless communications. Jim lives in Greenfield, Indiana, with his wife, Kathy, and two children, Rebecca and James. He spends his free spare time (there is no such thing as free time) learning and teaching taekwondo at Indianapolis ATA Black Belt Academy with his family, geocaching with his children, and being humbled by his son at just about any video game you care to mention.
Jacqui Salerno Mabin lives in the Seattle area with her husband, Jay and their dog, Marley. After graduating from the University of Illinois, Chicago, with a Bachelor's degree in English, Jacqui worked as a copy editor for a local newspaper. Later, she filled several roles with a startup software company, working as a software tester and technical writer, creating the user manuals for their document storage solution software. Currently, she is a software development test engineer with a deep interest in Microsoft Publisher 2007 software.
See More