E-book
Radical Trust: How today's great leaders convert people to partners
ISBN: 978-0-470-18745-6
240 pages
November 2007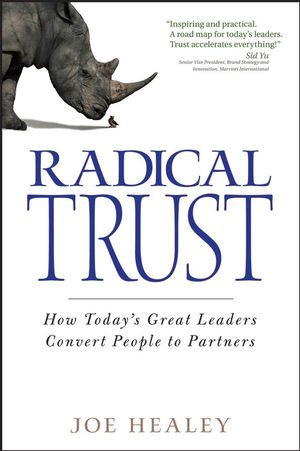 Radical Trust produces results

"Healey brings to the forefront the importance of trust to business effectiveness in a new and fresh way. It takes the alignment of 'what we do,' 'what we say,' and 'who we are' to build trust with others. Business relationships founded on trust may be the single biggest employee retention tool available. Healey shows us how to build those kinds of relationships. Any leader would benefit from the insights he shares in Radical Trust."
-Doug McMillon, President and CEO, Sam's Club

"Healey is right on target. His book is a clear explanation of how instilling loyalty in a company becomes the differentiator in building an extraordinary culture. Having the chance to experience the loyalty factor from both sides at CiCi's Pizza, mentored by Joe Croce (featured in this book) as his employee and now in my current role as President, I know that the head of any organization will learn great lessons from Healey's work."
-Craig Moore, President, CiCi's Pizza

"Healey shows an organization how to set itself apart with service excellence, financial success, and employee loyalty. For progressive leaders who seek a comprehensive how-to, this book provides not only the framework, but also the proof that it works. Even after twenty years of experience, I learned things that will provide invaluable assistance for many more to come."
-Loriann Putzier, Principal and COO, IntegraCare Corporation

"Radical Trust is not a book of theory, but a hands-on, how-to book of practical ideas to help leaders establish radical trust that will change their relationships, their workplaces, and ultimately, their lives. Buy this book if you want to be a long-lived, successful, and well-loved leader."
-Barbara A. Glanz, author of Handle with CARE: Motivating and Retaining Employees and coauthor of The Simple Truths of Service

"Healey's model is an invaluable tool for leaders who want to harness the forward momentum that trust can bring to an organization. This book captures and describes the role that trust plays as an intrinsic value that people of all ages, genders, and cultures must have with their leaders."
-Genien Carlson, former first Vice President, Mellon Bank

"Radical Trust is entertaining reading. Healey shares his insight through useful, real-life, everyday examples. Trust is the key building block of successful leadership, and this book is your blueprint."
-Ronald L. Hrebinko, MD, Associate Professor, Urologic/Surgical Oncology,University of Pittsburgh School of Medicine
See More
Acknowledgments.
Preface.
Part I: Trust: Your Most Important Competitive Weapon.
1. Discovering the Power of Trust.
2. The Business Case for Trust.
3. Four Competencies that Build Radical Trust.
Part II: Execution Trust (What You Do).
4. Be a Leader Who Can Execute.
5. Use Trust to Tap and Unleash Talent.
6. Solid Relationships Drive Solid Execution.
7. How Leaders Marry Time and People.
8. How to Sustain Drive in a culture.
9. Getting People to Trust Metrics.
10. Motivation: Beyond Wasteful Rewards and Negative Consequences.
11. Use Trust to Fuel Passion and Create Focus.
Part III: Character Trust. (Who You Are).
12. Character Shapes the Leader.
13. The Power of Honesty and Integrity and the Link to Innovation.
14. Importance of Character and Emotional Intelligence in Development.
15. Valuing Others Creates a Culture of Success.
16. Gauging Character for Decision Making.
17. Fiscal Discipline Creates Opportunity.
Part IV: Communication Trust (What  You Say).
18. How to Create Cultural Transformation.
19. Credibility Leads to Cooperation and Buy-In.
20. Clarity Leads to Engagement.
21. Sensitivity Leads to Accountability.
22. Brevity Leads to Influence.
Part V. Loyalty Trust (How They Feel).
23. Loyalty Trust Generates Innovation.
24. With Trust, Firing Can Invigorate a Culture.
25. Trust Is the Bridge to Generational Differences.
26. Diversity Is Not the Problem.
27. Final Thoughts.
Index.
About the Author.
See More
Joe Healey, since starting a consulting practice in 1989, has worked with banks and technology companies in Australia, hotels in Thailand, manufacturers in Germany, telecommunication companies in Ireland, healthcare, law, and accounting firms throughout North America, and some of the largest retail operations in the world. His experience as a corporate banker and managing partner of a rapid-growth retail chain ensures that his innovative ideas relate to readers in ways that are relevant in a busy and competitive world. Voted "World's Best Presenter" by journalists in 2000, his unique message and inspiring style have made him a sought-after speaker on change, leadership, and growth. His life and work have been profiled in the Wall Street Journal. He lives in Virginia Beach, Virginia, with his wife, Jill, and three children, Joe, Jen, and Josh.
See More