Handbook of Improving Performance in the Workplace, Volume 3, Measurement and Evaluation
ISBN: 978-0-470-19067-8
448 pages
December 2009, Pfeiffer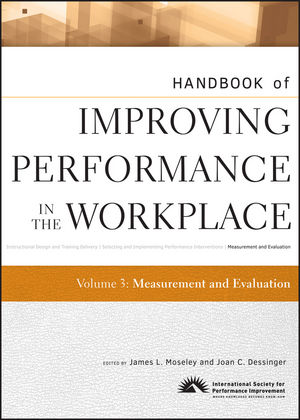 HANDBOOK of IMPROVING PERFORMANCE IN THE WORKPLACE
Volume 3: Measurement and Evaluation
Volume Three of the Handbook of Improving Performance in the Workplace focuses on Measurement and Evaluation and represents an invaluable addition to the literature that supports the field and practice of Instructional Systems Design.
With contributions from leading national scholars and practitioners, this volume is filled with information on time-tested theories, leading-edge research, developments, and applications and provides a comprehensive review of the most pertinent information available on critical topics, including: Measuring and Evaluating Learning and Performance, Designing Evaluation, Qualitative and Quantitative Performance Measurements, Evidence-based Performance Measurements, Analyzing Data, Planning Performance Measurement and Evaluation, Strategies for Implementation, Business Evaluation Strategy, Measurement and Evaluation in Non-Profit Sectors, among many others. It also contains illustrative case studies and performance support tools.
Sponsored by International Society for Performance Improvement (ISPI), the Handbook of Improving Performance in the Workplace, three-volume reference, covers three core areas of interest including Instructional Design and Training Delivery, Selecting and Implementing Performance Interventions, and Measurement and Evaluation.
See More
List of Case Studies, Exhibits, Figures, Performance Support Tools, and Tables xiii
Introduction to Volume Three xvii
Acknowledgements xxv
PART ONE: PERSPECTIVES IN MEASUREMENT AND EVALUATION 1

1 Measurement, Evaluation, and Research: Feedback for Decision Making 3
Carl Binder
2 Measurement and Evaluation in the Workplace 25
Lori G. Bosteder, Darlene Russ-Eft
3 Unleashing the Positive Power of Measurement in the Workplace 43
Dean R. Spitzer
4 Relating Training to Business Performance: The Case for a Business Evaluation Strategy 59
William J Tarnacki II, Eileen R. Banchoff
5 Success Case Methodology in Measurement and Evaluation 76
Anne M. Apking, Tim Mooney
PART TWO: PILLARS IN MEASUREMENT AND EVALUATION 95
6 Needs Assessment: A Lighthouse Beacon 97
Catherine M. Sleezer, Darlene Russ-Eft
7 The Impact Evaluation Process 113
Ingrid J. Guerra-López
8 Full-Scope Evaluation: Do You "Really Oughta, Wanna"? 128
Joan C. Dessinger, James L. Moseley
9 How to Use Kirkpatrick's Taxonomy Effectively in the Workplace 142
Richard B. Pearlstein
10 Ethical Considerations in Performance Measurement 161
David L. Solomon
PART THREE: MOSAICS IN MEASUREMENT AND EVALUATION 177
11 Performance-Based Evaluation: Tools, Techniques, and Tips 179
Judith A. Hale
12 Testing Strategies: Verifying Capability to Perform 200
Peter R. Hybert
13 The Business of Program Evaluation: ROI 219
Patti P. Phillips, Jack J. Phillips
14 Integrated Evaluation: Improving Performance Improvement 240
Nancy B. Hastings
15 Using Evaluation Results to Improve Human Performance Technology Projects 256
Carol K. Diroff
PART FOUR: FRONTIERS IN MEASUREMENT AND EVALUATION 273
16 Understanding Context: Evaluation and Measurement in Not-for-Profit Sectors 275
Dale C. Brandenburg
17 Using New Technology to Create a User-Friendly Evaluation Process 296
William J. Rothwell, Anita Pane Whiteford
18 New Kids on the Block: Evaluation in Practice 314
Debra M. Smith
19 Expanding Scope of Evaluation in Today's Organizations 339
Darlene Russ-Eft
20 The Changing Role of Evaluators and Evaluation 354
Roger Chevalier
About the Editors 375
About the Contributors 377
Name Index 388
Subject Index 393
See More
THE EDITORS
James L. Moseley is an associate professor of Instructional Technology at Wayne State University, College of Education. He teaches program evaluation and human performance technology and directs doctoral dissertations. He is co-author of five books, three of which have won ISPI Awards for Excellence in Instructional Communication. He is a frequent contributor to Pfeiffer/Wiley publications including the Pfeiffer Annuals. He has won numerous awards for teaching and mentoring and frequently consults with business, industry, and health care on program evaluation and human performance. His new area of interest focuses on older worker and older learner issues.
Joan Conway Dessinger is a consultant, writer, editor, and an adjunct faculty member in the Wayne State University Instructional Technology program. She founded The Lake Group, a performance improvement consulting firm. She is the co-author of five books, three of which have won ISPI Awards for Excellence in Instructional Communication. She is a contributor to Distance Training and Sustaining Distance Training, both (Jossey-Bass), the Handbook of Human Performance Technology; and the 2007 Pfeiffer Annual (Pfeiffer).
See More
Learn more about