Handbook of Improving Performance in the Workplace, Volume 2, The Handbook of Selecting and Implementing Performance Interventions
ISBN: 978-0-470-19069-2
944 pages
December 2009, Pfeiffer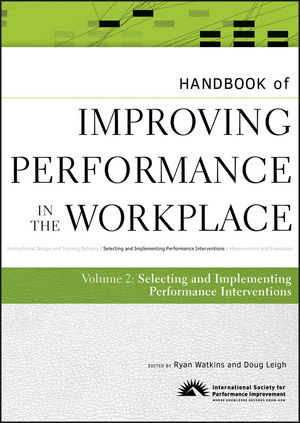 There is a need for a standard reference for instructional design professionals. Sponsored by ISPI, Volume One of the Handbook of Training and Improving Performance presents multi-disciplinary knowledge, standard principles, and evidence-based best practices for designing instruction delivering training. It offers a comprehensive review of topics such as: Interventions at the Worker Level; Interventions at the Work Team Level; Interventions at the Workplace and Organizational Level; Implementation  Interventions; Project Management; Measuring the Success of Implementation; Managing Implementation. The book features international cases.
See More
List of Exhibits, Figures, and Tables xiii
Introduction to Volume Two xix
Acknowledgements xxxvii
PART ONE: INTRODUCTION 1
1 HPT Models: An Overview of the Major Models in the Field 5
Frank S. Wilmoth, Christine Prigmore, Marty Bray
2 Linking Practice and Theory 27
Seung Youn Chyung, Shelley A. Berg
3 The Performance Pyramid 51
John Wedman
PART ONE: EDITORS' DISCUSSION 81
PART TWO: VISION, MISSION, AND OBJECTIVES 85
4 Future Search 91
Marvin Weisbord, Sandra Janoff
5 SWOT Analysis 115
Doug Leigh
6 Appreciative Inquiry 141
Marvin Faure, Jennifer Rosenzweig, Darlene Van Tiem
PART TWO: EDITORS' DISCUSSION 167
PART THREE: RESOURCES 171
7 Organizational Restructuring 177
Sally Lollie, Hillary Leigh
PART THREE: EDITORS' DISCUSSION 197
PART FOUR: EXPECTATIONS AND FEEDBACK 201
8 Realistic Job Previews 203
Jim Breaugh
9 360-Degree Feedback 221
Eugene Kutcher, John Donovan, Steven J. Lorenzet
10 Performance Measurement and Management Systems 251
Ingrid Guerra-López
11 Achieving Improved Performance Through Managerial Coaching 275
Andrea D. Ellinger, Alexander E. Ellinger, Robert G. Hamlin, Rona S. Beattie
12 Performance Management Systems 299
David G. Gliddon
PART FOUR: EDITORS' DISCUSSION 319
PART FIVE: TOOLS, ENVIRONMENT, AND PROCESSES 323
13 Electronic Performance Support Systems 325
Frank Nguyen
14 Performance Aids 344
Miki Lane
15 Knowledge Management 366
Debra Haney, James T. Driggers
16 The Change Readiness Rubric 392
Bea Griffith-Cooper, Karyl King
17 Process Improvement 418
Marcey Uday-Riley, Ingrid Guerra-López
PART FIVE: EDITORS' DISCUSSION 439
PART SIX: INCENTIVES, REWARDS, AND RECOGNITION 441
18 Incentive Systems 445
Steven J. Condly
19 Rewards, Positive Reinforcement, and Incentive Systems 465
Jessica Jean Frumkin
20 Employee and Executive Compensation 482
Tahir M. Nisar
PART SIX: EDITORS' DISCUSSION 507
PART SEVEN: MOTIVATION AND SELF-CONCEPT 511
21 Motivational Communication 515
Lya Visser
22 Career Mentoring 536
Christine D. Hegstad
23 Job Crafting 555
Michelle French
PART SEVEN: EDITORS' DISCUSSION 569
PART EIGHT: KNOWLEDGE AND SKILLS 573
24 e-Learning 577
Ryan Watkins
25 Cross-Disciplinary Team Learning 598
Scott P. Schaffer
26 Mentoring 613
Stella Louise Cowan
27 Executive Leadership Coaching 646
Daniel White
PART EIGHT: EDITORS' DISCUSSION 673
PART NINE: PERFORMANCE CAPABILITY 677
28 Outsourcing 681
Judith A. Hale
29 Succession Planning and Management 697
Hillary Leigh
PART NINE: EDITORS' DISCUSSION 717
PART TEN: ORGANIZATIONAL CULTURE 721
30 Organizational Culture 725
Anthony Marker
31 Diversity and Cultural Competence 745
Tyrone A. Holmes
PART TEN: EDITORS' DISCUSSION 763
PART ELEVEN: CONTINUOUS MONITORING 767
32 Needs Assessment 771
James W. Altschuld, Traci L. Lepicki
33 Data Collection 792
Anne F. Marrelli
PART ELEVEN: EDITORS' DISCUSSION 817
PART TWELVE: SIGNIFICANT ACCOMPLISHMENTS 821
34 Return on Investment 823
Patti P. Phillips, Jack J. Phillips
PART TWELVE: EDITORS' DISCUSSION 847
Editors' Epilogue 851
About the Editors 855
About the Contributors 857
Name Index 871
Subject Index 880
See More
Ryan Watkins is an associate professor with the George Washington University in Washington, DC. He teaches and does research on needs assessment, system analysis and design, instructional design, and distance education. Ryan is the author of 75 E-learning Activities and co-author of Strategic Planning for Success (Pfeiffer), as well as five other books, including Performance by Design, and the E-learning Companion. Ryan is an active member of ISPI and frequent contributor to its journals.
Doug Leigh is an associate professor of education with Pepperdine University's Graduate School of Education and Psychology. His current research, publication, and consulting interests involve cause analysis, organizational trust, leadership visions, and dispute resolution. Doug is co-author of Strategic Planning for Success and Useful Educational Results, a two-time chair of the American Evaluation Association's needs assessment topic interest group, and past editor-in-chief of the ISPI's journal, Performance Improvement.
For more on Ryan and Doug's work, including podcasts with contributing authors to the handbook, visit www.needsassessment.org.
See More