Spirituality For Dummies, 2nd Edition
ISBN: 978-0-470-19142-2
384 pages
January 2008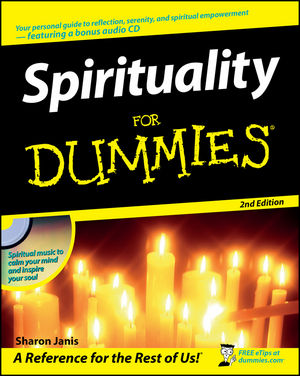 Want to get in touch with your spiritual side?
Spirituality For Dummies. 2nd Edition,
shows you how to use spiritual principles to understand and improve your life, empower you mind, and nourish your soul
.
Complete with a CD filled with calming, spiritual music, it is your personal guide to serenity and spiritual healing.
Spiritual philosopher Sharon Janis shows you how to discover the deeper calling of your soul, survive and thrive through adversity, and look at the world with optimism. You'll learn how to use meditation, yoga, prayer, and journaling for inward reflection and to spark new vistas as you unfold your own spiritual wisdom and move forward on your spiritual journey in your own individual way. You'll find similarities and differences among a variety basic spiritual concepts from different religious and philosophical traditions, and you'll discover how to:
Find your spiritual path
Uplift your body, mind, and spirit
Fulfill your greatest dreams
Spiritualize your relationships
Cultivate your spiritual virtues
Increase your inner peace and happiness
Turn troubles into triumphs
Recognize yourself as a co-creator
Be a VIP: a very inspired person
The companion CD that accompanies this gentle guide brings you more than 60 minutes of inspirational music from around the world. It features the author and other artists performing songs and chants from Christian, Jewish, Buddhist, and Hindu traditions in their native languages.
Note: CD-ROM/DVD and other supplementary materials are not included as part of eBook file.
See More
Introduction.
Part I: Getting Acquainted with Spirituality.
Chapter 1: Finding Authentic Spirituality.
Chapter 2: Defining Spirituality.
Chapter 3: Discovering Your Spirit.
Chapter 4: Exploring Your Soul's Journey.
Chapter 5: Finding Your Spiritual Path.
Part II: Spiritual Practice Makes Perfect.
Chapter 6: If You're Already Spiritual, Why Practice?
Chapter 7: Spiritually Energizing Your Body.
Chapter 8: Empowering Your Mind.
Chapter 9: Nourishing Your Spirit.
Part III: Living a Spiritual Life.
Chapter 10: Cultivating Spiritual Virtues.
Chapter 11: Uplifting Your Whole Life.
Chapter 12: Turning Troubles into Triumphs.
Chapter 13: Finding the Deep Calling of Your Soul.
Part IV: This Conscious Universe: How You Connect.
Chapter 14: The Nature of Universal Creation.
Chapter 15: The Laws of Karma and Attraction.
Chapter 16: When Thy Will Be Done Becomes My Will Be Done.
Chapter 17: Liberation, Enlightenment, and the Cosmic Joke.
Part V: The Part of Tens.
Chapter 18: Ten Small Things You Can Do to Uplift Your Life.
Chapter 19: Ten Spiritual-Sounding Lines and What They May Really Mean.
Chapter 20: Ten Opportunities to See Your Life with Spiritual Eyes.
Chapter 21: Ten More Commandments.
Appendix: About the CD.
Index.
End-User License Agreement.
See More
Sharon Janis spent a decade living a monastic life and producing videos on Indian spiritual philosophy before moving to Hollywood for an award-winning TV and film career.
See More