Advanced Biomaterials: Fundamentals, Processing, and Applications
ISBN: 978-0-470-19340-2
776 pages
October 2009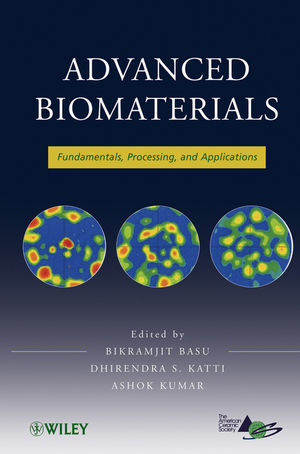 Enables readers to take full advantage of the latest advances in biomaterials and their applications.
Advanced Biomaterials: Fundamentals, Processing, and Applications reviews the latest biomaterials discoveries, enabling readers to take full advantage of the most recent findings in order to advance the biomaterials research and development. Reflecting the nature of biomaterials research, the book covers a broad range of disciplines, including such emerging topics as nanobiomaterials, interface tissue engineering, the latest manufacturing techniques, and new polymeric materials.
The book, a contributed work, features a team of renowned scientists, engineers, and clinicians from around the world whose expertise spans the many disciplines needed for successful biomaterials development. All readers will gain an improved understanding of the full range of disciplines and design methodologies that are used to develop biomaterials with the physical and biological properties needed for specific clinical applications.
See More
Foreword (by Prof. Larry L. Hench) ix
Preface xi
Contributors xv
About the Editors xxi
SECTION I
1 FUNDAMENTALS OF BIOMATERIALS AND BIOCOMPATIBILITY 3
Bikramjit Basu and Shekhar Nath
2 FUNDAMENTALS OF HYDROXYAPATITE AND RELATED CALCIUM PHOSPHATES 19
Racquel Zapanta LeGeros, Atsuo Ito, Kunio Ishikawa, Toshiro Sakae, and John P. LeGeros
3 MATERIALS FOR ORTHOPEDIC APPLICATIONS 53
Shekhar Nath and Bikramjit Basu
4 THE MICRO MACROPOROUS BIPHASIC CALCIUM PHOSPHATE CONCEPT FOR BONE RECONSTRUCTION AND TISSUE ENGINEERING 101
Guy Daculsi, Franck Jegoux, and Pierre Layrolle
5 SCIENCE AND TECHNOLOGY INTEGRATED TITANIUM DENTAL IMPLANT SYSTEMS 143
Yoshiki Oshida and Elif Bahar Tuna
6 INJECTABLE HYDROGELS AS BIOMATERIALS 179
Lakshmi S. Nair, Cato T. Laurencin, and Mayank Tandon
7 NANOMATERIALS FOR IMPROVED ORTHOPEDIC AND BONE TISSUE ENGINEERING APPLICATIONS 205
Lijie Zhang, Sirinrath Sirivisoot, Ganesh Balasundaram, and Thomas J. Webster
SECTION II
8 INTRODUCTION TO PROCESSING OF BIOMATERIALS 245
Dhirendra S. Katti, Shaunak Pandya, Meghali Bora, and Rakesh Mahida
9 LASER PROCESSING OF ORTHOPEDIC BIOMATERIALS 277
Rajarshi Banerjee and Soumya Nag
10 FUNCTIONALLY GRADED ALL CERAMIC HIP JOINT 323
Omer Van der Biest, Guy Anné, Kim Vanmeensel, and Jef Vleugels
11 MEDICAL DEVICES BASED ON BIOINSPIRED CERAMICS 357
Pío González, Julián Martínez-Fernández, Antonio R. de Arellano-López, and Mrityunjay Singh
12 IONOMER GLASSES: DESIGN AND CHARACTERIZATION 411
Artemis Stamboulis and Fei Wang
13 DESIGNING NANOFIBROUS SCAFFOLDS FOR TISSUE ENGINEERING 435
Neha Arya, Poonam Sharma, and Dhirendra S. Katti
14 DESIGN OF SUPERMACROPOROUS BIOMATERIALS VIA GELATION AT SUBZERO TEMPERATURES—CRYOGELATION 499
Fatima M. Plieva, Ashok Kumar, Igor Yu. Galaev, and Bo Mattiasson
SECTION III
15 BIOMATERIAL APPLICATIONS 535
Ashok Kumar, Akshay Srivastava, and Era Jain
16 CELL-BASED NANOCOMPOSITES AND BIOMOLECULES FOR BONE TISSUE ENGINEERING 551
Michelle Ngiam, Susan Liao, Casey Chan, and S. Ramakrishna
17 ORTHOPEDIC INTERFACE TISSUE ENGINEERING: BUILDING THE BRIDGE TO INTEGRATED MUSCULOSKELETAL TISSUE SYSTEMS 589
Helen H. Lu, Kristen L. Moffat, and Jeffrey P. Spalazzi
18 CELLS OF THE NERVOUS SYSTEM AND ELECTRICAL STIMULATION 613
Carlos Atico Ariza and Surya K. Mallapragada
19 PLACENTAL UMBILICAL CORD BLOOD: A TRUE BLOOD SUBSTITUTE 643
Niranjan Bhattacharya
20 SUPPORTED CELL MIMETIC MONOLAYERS AND THEIR BLOOD COMPATIBILITY 663
K. Kaladhar and Chandra P. Sharma
21 TITANIUM NITRIDE AND DIAMOND LIKE CARBON COATINGS FOR CARDIOVASCULAR APPLICATIONS 677
C.V. Muraleedharan and G.S. Bhuvaneshwar
INDEX 707
See More
BIKRAMJIT BASU, PhD, is an Associate Professor in the Department of Materials and Metallurgical Engineering at the Indian Institute of Technology Kanpur. His research interests include ceramic and polymer-based biocompatible materials, nanoceramics and nanoceramic composites, and tribology of advanced materials. He received the Coble Award of the American Ceramic Society in 2008 and was recognized by the Indian National Science Academy and the Indian National Academy of Engineering.
DHIRENDRA S. KATTI, PhD, is an Associate Professor in the Department of Biological Sciences and Bioengineering at the Indian Institute of Technology Kanpur. His research interests include polymeric biomaterials, drug delivery systems, tissue engineering, and nanotechnology.
ASHOK KUMAR, PhD, is an Associate Professor in the Department of Biological Sciences and Bioengineering at the Indian Institute of Technology Kanpur. His research interests include the design of supermacroporous polymeric materials and smart polymers for application in tissue engineering, development of cell separation technology, extracorporeal medical devices, and high-throughput analysis. His other research interests include bioprocess engineering, biosensors, and environmental biotechnology.
See More