Golden Retriever: Your Happy Healthy Pet, with DVD, 2nd Edition
ISBN: 978-0-470-19569-7
Hardcover
144 pages
May 2008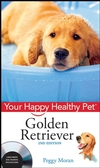 This title is out-of-print and not currently available for purchase from this site.
Part I: The World of the Golden Retriever.
Chapter 1: What Is a Golden Retriever?
The Golden Standard.
Gold Medal Athletes.
All That Glitters.
Chapter 2: Golden Retriever History.
Jolly Good Sports.
Mothers and Fathers of the Breed.
Getting to the USA.
The All-Purpose Golden.
Chapter 3: Why Choose a Golden?
The Social Golden.
Trainability and Intelligence.
Golden Temperament.
Regarding Other Creatures.
Chapter 4: Choosing Your Golden.
The Best Breeder.
Meeting the Puppies.
Your Adult Golden.
Almost Home.
Part II: Caring for Your Golden Retriever.
Chapter 5: Bringing Your Golden Home.
Confinement.
Fun Stuff!
Outdoor Puppy-Proofing.
Puppy Essentials.
The Big Day.
Puppy-Proofing Your Home.
Quality Time.
Chapter 6: Feeding Your Golden Retriever.
Commercial versus Natural Food.
Reading Dog Food Labels.
Feeding a Growing Golden.
Keeping Adults in Good Weight.
Golden Years: Fit, Not Fat.
Chapter 7: Grooming Your Golden Retriever.
Grooming Equipment.
Puppy Grooming.
Adult Grooming.
Bathing Your Golden.
Don't Neglect the Nails.
Creepy Crawlies.
Making Your Environment Flea Free.
Chapter 8: Keeping Your Golden Healthy.
A Healthy Start.
Hereditary Diseases.
Common Canine Ailments.
What to Do in an Emergency.
When to Call the Veterinarian.
How to Make a Canine First-Aid Kit.
Part III: Enjoying Your Golden Retriever.
Chapter 9: Training Your Golden Retriever.
Understanding Builds the Bond.
Practical Commands for Family Pets.
Training for Attention.
Teaching Cooperation.
Chapter 10: Housetraining Your Golden Retriever.
Your Housetraining Shopping List.
The First Day.
Confine Your Pup.
Watch Your Pup.
Accidents Happen.
Scheduling Basics.
Appendix: Learning More About Your Golden Retriever.
Some Good Books.
Magazines.
Clubs and Registries.
On the Internet.
Index.