E-book
Mastering SQL Server 2005 Reporting Services Infrastructure Design
ISBN: 978-0-470-19577-2
486 pages
October 2007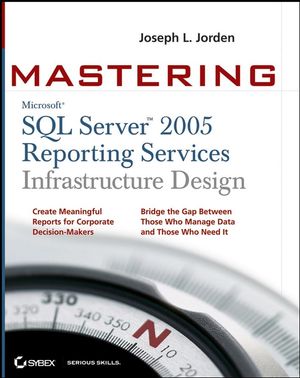 Reporting Services is a powerful tool for SQL Server 2005 database administrators, developers, and other IT professionals, enabling them to make sense of the immense amount of data generated by enterprises of all sizes
Shows readers how to create, manage, and distribute information as well as how to design, produce, and distribute reports that meet the needs of the stakeholder
Contains practical insights and real-world solutions not found in other books
Bridges the gap between those who manage data and those who need it
See More
Introduction.
Part 1:  Designing the Reporting Infrastructure.
Chapter 1:  Principles of a Reporting Infrastructure.
Chapter 2:  Determining Business Requirements.
Chapter 3:  Planning and Developing Role-Based Security.
Chapter 4:Managing User Expectations.
Chapter 5: Change Management.
Chapter 6: Business Intelligence and Reporting.
Part 2: Using Reporting Services in Your Infrastructure.
Chapter 7: Deploying Reporting Services.
Chapter 8: Ad Hoc Reporting.
Chapter 9: Subscriptions.
Chapter 10: Maintenance and Administration.
Part 3 • Advanced Topics.
Chapter 11: Managing Reports Using Program Code.
Chapter 12: Extending Reporting Services.
Chapter 13: Report Definition Language.
Chapter 14: Report Server Security.
Chapter 15: Data Sources and Data Sets.
Chapter 16: Performance Tuning.
Index.
See More
Joseph L. Jorden, MCP, MCSE, MCTS, is a senior consultant for Allin Consulting and a developer of database applications. He was among the first 100 people to achieve the MCSE+I certification from Microsoft and an early qualifier for the MCSE on Windows 2000. During his years as an MCT, Jorden taught Microsoft Official Curriculum courses on SQL Server 6.5, 7.0 and 2000. He has spoken at PASS conferences and Comdex, and has written numerous articles for various publications. He has also written and tech-edited several Sybex books, most of them on SQL Server.
See More
Learn more about