Pharmaceutical Data Mining: Approaches and Applications for Drug Discovery
ISBN: 978-0-470-19608-3
Hardcover
565 pages
December 2009
US $145.00

Add to Cart
This price is valid for United States. Change location to view local pricing and availability.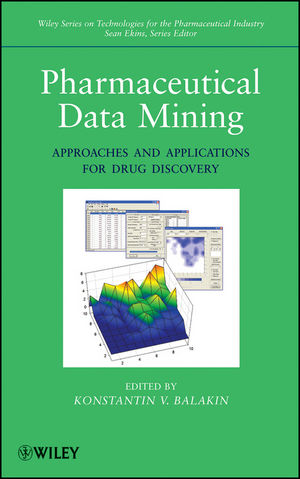 Other Available Formats:
E-book
Preface.
Acknowledgments.
Contributors.
PART I: DATA MINING IN THE PHARMACEUTICAL INDUSTRY: A GENERAL OVERVIEW.
1 A History of the development of Data Mining in Pharmaceutical Research ( David J. Livingstone and John Bradshaw).
2 Drug Gold and Data Dragons: Myths and Realities of Data Mining in the Pharmaceutical Industry (Barry Robson and Andy Vaithiligam).
3 Application of Data Mining Algorithms in Pharmaceutical Research and Development (Konstantin V. Balakin and Nikolay P. Savchuk).
PART II: CHEMOINFORMATICS-BASED APPLICATIONS.
4 Data Mining Approaches for Compound Selection and Iterative Screening (Martin Vogt and Jurgen Bajorath).
5 Prediction of Toxic Effects of Pharmaceutical Agents (Andreas Maunz and Christoph Helma).
6 Chemogenomics-Based Design of GPCR-Targeted Libraries Using Data Mining Techniques (Konstantin V. Balakin and Elena V. Bovina).
7 Mining High-Throughput Screening Data by Novel Knowledge-Based Optimization Analysis (S. Frank Yan, Frederick J. King, Sumit K. Chanda, Jeremy S. Caldwell, Elizabeth A. Winzeler, and Yingyao Zhou).
PART III: BIOINFORMATICS-BASED APPLICATIONS.
8 Mining DNA Microarray Gene Expression Data (Paolo Magni).
9 Bioinformatics Approaches for Analysis of Protein-Ligand Interactions (Munazah Andrabi, Chioko Nagao, Kenji Mizuguchi, and Shandar Ahmad).
10 Analysis of Toxicogenomic Databases (Lyle D. Burgoon).
11 Bridging the Pharmaceutical Shortfall: Informatics Approaches to the Discovery of Vaccines, Antigens, Epitopes, and Adjuvants (Matthew N. Davies and Darren R. Flower).
PART IV: DATA MINING METHODS IN CLINICAL DEVELOPMENT.
12 Data Mining in Pharmacovigilance (Manfred Hauben and Andrew Bate).
13 Data Mining Methods as Tools for Predicting Individual Drug Response (Audrey Sabbagh and Pierre Darlu).
14 Data Mining Methods in Pharmaceutical Formulation (Raymond C. Rowe and Elizabeth A Colbourn).
PART V: DATA MINING ALGORITHMS AND TECHNOLOGIES.
15 Dimensionality Reduction Techniques for Pharmaceutical Data Mining (Igor V. Pletnev, Yan A. Ivanenkov, and Alexey V. Tarasov).
16 Advanced Artificial Intelligence Methods Used in the Design of Pharmaceutical Agents (Yan A. Ivanenkov and Ludmila M. Khandarova).
17 Databases for Chemical and Biological Information (Tudor I. Oprea, Liliana Ostopovici-Halip, and Ramona Rad-Curpan).
18 Mining Chemical Structural Information from the Literature (Debra L. Banville).
Index.