What's the Secret?: To Providing a World-Class Customer Experience
ISBN: 978-0-470-19612-0
336 pages
May 2008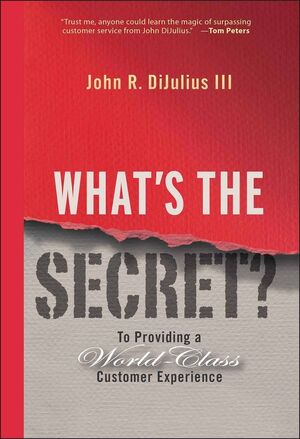 What's the Secret? gives you an inside look at the world-class customer service strategies of some of today's best companies. You'll learn how companies like Disney, Nordstrom, and The Ritz-Carlton get 50,000 employees to deliver world-class customer service on a consistent basis- and how your company can too. Packed with insider knowledge and a wealth of proven best practices, author John DiJulius will show you how your company can emulate the world's best customer service providers.
See More
Preface vii
Secret Service Terminology xiii
Acknowledgments xv
Part I: The Customer Service Crisis 1
1 The Smoking Gun 3
Definitive proof of the return on investment in providing superior service
2 The State of Service 25
Is your company part of the customer service crisis or customer service revolution?
3 World-Class Service Sins 45
What prevents companies from being world class?
4 Service Aptitude Level 57
What level is your company?
Part II: The Customer Service Revolution 75
5 Commandment I: Service Vision 87
A clear purpose of why the business exists
6 Commandment II: Creating a World-Class Internal Culture 111
Attract, hire, and retain only the people who have the Service DNA
7 Commandment III: Nonnegotiable Experiential Standards 133
Experience standards everyone must follow
8 Commandment IV: Secret Service Systems 149
Utilizing Customer Intelligence to personalize their experience and engage and anticipate their needs
9 Commandment V: Training to Provide a World-Class Customer Experience 181
Systems and processes that remove variation and provide a consistent customer experience
10 Commandment V I: Implementation and Execution 205
How to go from ideas on paper to consistently executed concepts
11 Commandment V II: Zero Risk 219

Anticipating your service defects and having protocols in place to make it right
12 Commandment V III: Creating an Above-and-Beyond Culture 243
Constant awareness and branding of how to be a hero
13 Commandment IX: Measuring Your Customer's Experience 271
What gets measured gets managed
14 Commandment X: World-Class Leadership 295
Walking the talk
Index 315
See More
John R. DiJulius III is considered the authority on customer service andPresident of The DiJulius Group, a consulting firm that helps companies differentiate themselves through superior customer service. He is also the owner of the John Robert's Spa, a chain of high-end salons and spas repeatedly selected among the top twenty in America. For more information, visit www.thedijuliusgroup.com.
See More