Small Loans, Big Dreams: How Nobel Prize Winner Muhammad Yunus and Microfinance are Changing the World
ISBN: 978-0-470-19632-8
410 pages
April 2008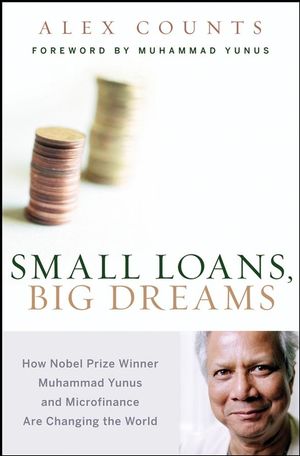 Microfinancing is considered one of the most effective strategies in the fight against global poverty. And now, in Small Loans, Big Changes, author Alex Counts reveals how Nobel Prize Winner Muhammad Yunus revolutionized global antipoverty efforts through the development of this approach. This book presents compelling stories of women benefiting from Yunus's microcredit in rural Bangladesh and urban Chicago, and recounts the experiences of different borrowers in each country, interspersing them with stories of Yunus, his colleagues, and their counterparts in Chicago.
See More
Foreword.
Acknowledgments.
Introduction to the 2008 Edition.
Introduction to the First Edition.
Chapter 1. Muhammad Yunus -From Vanderbilt To Chittagong.
Chapter 2. The Birth Of The Grameen Bank.
Chapter 3. Zianpur Bazaar.
Chapter 4. Las Papillons.
Chapter 5. Amena Begum's Dream.
Chapter 6. Omiyale Dupart.
Chapter 7. The Haldar Para.
Chapter 8. The Maxwell Street Market.
Chapter 9. Krishna Das Bala.
Chapter 10. The Hip Hop Shop.
Chapter 11. Dry Money in a Monsoon.
Chapter 12. The Black on Black Love Festival.
Chapter 13. The Sixteen Decisions.
Chapter 14. â??We're Here For Youâ??.
Epilogue.
Appendix A.
Notes.
About the Author.
Index.
See More
Alex Counts is President and CEO of the Grameen Foundation, a nonprofit, Washington, D.C.–based organization that has grown from modest beginnings in 1997 to become a global network of forty-six microfinance partners in twenty-four countries. Under his leadership, the Grameen Foundation impacts an estimated eighteen million lives in Asia, Africa, the Americas, and the Arab World. Counts trained to be a catalyst for change under Dr. Muhammad Yunus, the founder and Managing Director of the Grameen Bank and corecipient of the 2006 Nobel Peace Prize.
See More