Statistical Thermodynamics
ISBN: 978-0-470-21151-9
404 pages
April 1991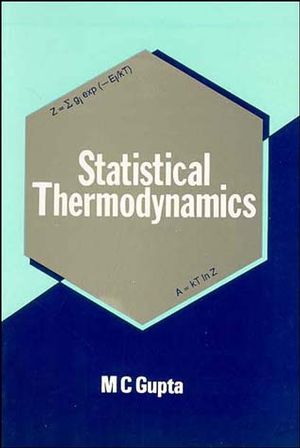 Develops the theory of the thermodynamic behavior of macroscopic systems in terms of their atoms or molecules and describes some of its applications in detail with illustrative examples. The first part provides background information. Part Two presents the two main approaches to the subject: the study of independent particles in an isolated system (which applies to simple systems), and the more powerful approach based on the concept of ensembles (describing how the system of independent particles may be used to calculate thermodynamic properties from the values of molecular parameters obtained via quantum theory). The third part gives details of seven classes of applications. Contains many examples and problems.
See More
Mathematics.

Classical Mechanics.

Quantum Mechanics.

Thermodynamics.

Statistical Mechanics of a System of Independent Particles.

Statistical Mechanics of Independent Particles.

Evaluation of the Independent Molecular Partition Functions.

Statistical Mechanics of Ensembles: Cannonical and Grand Cannonical Ensembles.

Nuclear Spin Statistics.

Fluctuations.

Ideal Gases.

Statistical Thermodynamic Properties of Solids.

Chemical Equilibrium.

Kinetic Theory of Gases.

The Liquid State.

Adsorption and Lattice Binding.

Solutions.

Solutions of Electrolytes.

Theory of Reaction Rates.

Appendices.

Index.
See More