Patterning of Material Layers in Submicron Region
ISBN: 978-0-470-22063-4
183 pages
September 1994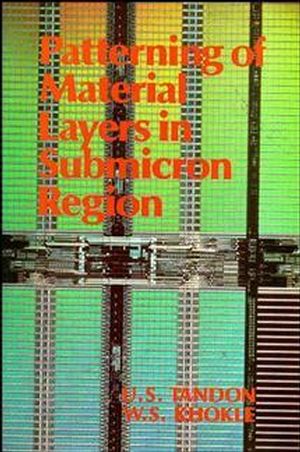 A coherent, comprehensive treatment of three submicron patterning technologies vying with each other to become the principal writing tool of the multitrillion dollar microelectronic industry. Features a detailed analysis of the various aspects of the three latest technologies--e-beam, ion beam and x-ray lithography. Compact synchrotron sources and x-ray mask preparation self-developing resists are described with tables and figures.
See More
Partial table of contents:

SUBMICRON PATTERNING: STATE OF THE ART AND VISTAS.

The Amelioration.

Prospective Avenues.

ELECTRON BEAM LITHOGRAPHY.

Electron Beam Sources.

Resists.

Technology.

EBL Applications.

ION BEAM LITHOGRAPHY.

I-Beam Resists.

Exposure Techniques.

Parallel Processing with Ions.

Applications of Ion Beam Lithography.

Conclusions and Prenotations.

X-RAY LITHOGRAPHY.

Principle.

X-Ray Sources.

Enlarging the Exposure Field.

Beamline for Synchrotron Radiation.

X-Ray Masks.

X-Ray Resists.

Alignment Schemes.

X-Ray Lithography Systems.

NANOTECHNOLOGY: PRESENT DAY SCENARIO.

International Status.

Projections.

Index.
See More