The Elements of Complex Analysis, 2nd Edition
ISBN: 978-0-470-22116-7
333 pages
October 1993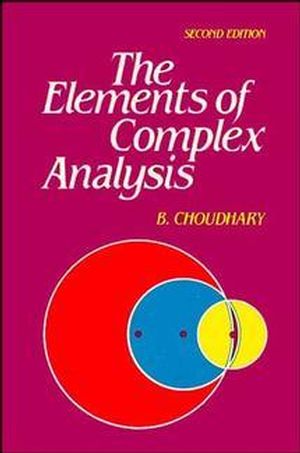 Stresses the applications of conformal mapping along with detailed coverage of elliptic functions, uniform approximation, homological version of Cauchy's theorem and Riemann mapping. Numerous examples with diagrams illustrate concepts. Each chapter contains exercises with varying degrees of difficulty and solutions which generate a slew of new ideas.
See More
Sets, Functions and Complex Numbers.
Metric Spaces.
Elementary Properties of Analytic Functions.
Line Integral and Cauchy's Theorem.
Applications of Cauchy's Theorem.
Power Series.
Laurent Series, Singularities.
Residue Theorem and Its Applications.
Conformal Mapping.
Harmonic Functions.
Weierstrass Factorization Theorem; Extension of the Maximum Modulus Principle.
Elliptic Functions.
Analytic Continuation, Differential Equations.
Approximation by Rational Functions and Polynomials.
Appendices.
Bibliography.
List of Symbols.
Index.
See More