Executive Compensation Best Practices
ISBN: 978-0-470-22379-6
336 pages
April 2008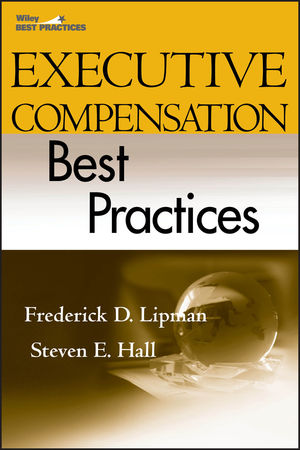 Executive Compensation Best Practices demystifies the topic of executive compensation, with a hands-on guide providing comprehensive compensation guidance for all members of the board. Essential reading for board members, CEOs, and senior human resources leaders from companies of every size, this book is the most authoritative reference on executive compensation.
See More
Chapter 1. Introduction.
Should the CEO be Rewarded or Punished for Events Beyond the CEO's Control?
Warren E. Buffett on Executive Compensation.
CEO Compensation Theories.
CEO Forced Exit Packages.
Private Equity Compensation.
Entertainment and Sports Celebrities.
Benefits of Good Corporate Governance.
Chapter 2. Motivating Executive Performance.
Tying Performance to the Strategic Plan.
Unintended Consequences.
Firm Expansion and CEO Pay.
Equity-Based Compensation.
A New Role for CEOs.
Minimum Equity Ownership Requirements.
Chapter 3. Peer Groups and Benchmarking.
Adjusting the Peer Group.
Peer Groups for Different Levels of Executives.
Benchmarking.
Lake Wobegon Effect.
Benchmarking with Medians.
Chapter 4. Competing with Private Equity Funds.
Chapter 5. Explaining Eexcutive Compensation to Shareholders.
Introduction.
Reconstructing Executive Compensation Disclosure for Shareholders.
Satisfying Investor Expectations.
Chapter 6: Compensation Committee Ordinary Operations.
SEC Action against Tyson Foods.
Earnings on Deferred Compensation.
Practical Steps for Compensation Committees.
Other Best Practices.
Chapter 7. Negotiating Executive Employment and Severance Agreements.
Negotiating With New CEO Candidates.
Negotiating With Existing CEOs.
Best Practices Applicable to New and Existing CEOs.
Council of Institutional Investors.
Gross-Up Clauses.
Retirement Arrangements.
The Grasso Case.
Section 409A of the Internal Revenue Code.
Best Practices in Negotiating Employment or Severance Agreements.
Chapter 8. Compensation Committe Structure and Process.
Creating Incentives for Good Corporate Governance.
Disney Litigation.
Chapter 9. Equity Incentive Choices.
Overview of Equity Incentives for Key Employees.
Dilution.
Stock Option versus Stock Appreciation Rights.
Restricted Stock versus SARs or Phantom Appreciation Plans.
Phantom Plans.
ISOs versus Non-ISOs.
The Advantage of ISOs.
Non-ISOs with Tax Reimbursement.
The Tax Benefit to the Company.
Chapter 10. Option Granting Practices.
Option Granting Practices.
The Council of Institutional Investors.
Equity Retention Practices.
Chapter 11. Director Compensation.
Retainer and Differential Pay.
Minimum Equity Requirements.
Director Compensation Procedure and Process.
Shareholder Approval.
Perquisites, Repricing and Exchange Programs, Change in Control and Severance Payments.
Disgorgement.
Chapter 12. Negotiating for the Executive.
CEO Turnover.
New Candidates for CEO or Other Executive Positions.
Employment Agreements with Private Equity Buyers of CEO's Business.
Chapter 13. Executive Compensation and Section 409A of the Internal Revenue Code.
Background.
Plans That Do Not Provide For the Deferral of Compensation.
Nonqualified Deferred Compensation Plan – Plans That Provide For Deferred Compensation.
Special Rule Applicable to Specified Employees.
Change-in-Control Events.
Change in the Ownership of a Corporation.
Change in the Effective Control of a Corporation.
Change in Ownership of a Substantial Portion of a Corporation's Assets.
Structuring the Payments upon an Event Payment Trigger.
Specified Time or Fixed Schedule.
Equity-Based Compensation.
Section 409A Compliance.
Appendix A. Compensation Committee Charter.
Appendix B. Corporate and Securities Update: SEC Adopts Sweeping Overhaul of its Executive Compensation Disclosure Requirements (September 2006).
Appendix C. Employment Agreement.
Appendix D. Public Company Equity Incentive Plan.
Appendix E. Search Terms Typically Required to be Researched by Public Company in Option Backdating Investigations by the Securities and Exchange Commission.
Appendix F. What an Employee Should Know about His or Her Stock Options.
See More
FREDERICK D. LIPMAN is a senior partner with the international law firm of Blank Rome LLP and also the President of the Association of Audit Committee Members, Inc., a nonprofit organization. He was a lecturer in the MBA program at the Wharton School of Business and at the University of Pennsylvania Law School. A graduate of Harvard Law School, he has more than forty years' experience in areas of corporate governance, M&As, private equity, and IPOs. Mr. Lipman is the author of ten other books including Audit Committees and Wiley's recent Corporate Governance Best Practices. He has appeared on television programs on CNBC, CNN, and Bloomberg as a national commentator on initial public offerings, venture capital, mergers and acquisitions, and stock options. He has been quoted in the Wall Street Journal and other publications and is located in the Philadelphia, Pennsylvania office of Blank Rome LLP.
STEVEN E. HALL is founder and Managing Director of Steven Hall & Partners, a compensation consulting firm located in New York City. He has over thirty years of experience in rendering advice to organizations in both the public and private arenas on a broad array of topics, including executive compensation, board remuneration, and governance issues related to the compensation committee. Mr. Hall is also a member of the faculty of the National Association of Corporate Directors (NACD), where he teaches courses focused on the responsibilities of board members in the areas of executive compensation and corporate governance. He is a frequent author and speaker and has appeared as a commentator on CNBC, CNN, and other national networks. He has also been quoted in the New York Times, the Wall Street Journal, and other U.S. and international periodicals.
See More