E-book
RibbonX For Dummies
ISBN: 978-0-470-22439-7
404 pages
November 2007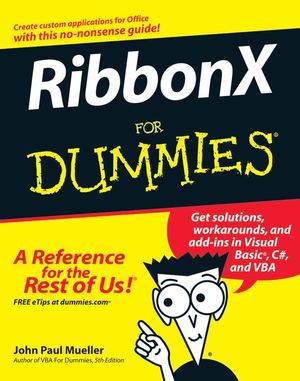 Includes coding examples and sample conversion programs!


Create VBA, VB.NET, and C# custom applications with this radical new interface

Are you ready to tackle RibbonX? This friendly, plain-English guide gives you the tips and techniques you need to design and implement Ribbon apps fast, as well as plenty of examples for working in VBA and Visual Studio(r). You'll customize the Ribbon to meet your needs, create new elements, and even find solutions for pre-existing Office apps!

* Create an effective RibbonX design
*

Write RibbonX apps
*

Develop business applications for Office
*

Work with Web services
*

Convert existing toolbars and macros
See More
Introduction.
Part I: An Overview of RibbonX.
Chapter 1: Getting to Know the Ribbon.
Chapter 2: Creating an Effective RibbonX Design.
Part II: Interacting with the Ribbon.
Chapter 3: Designing New RibbonX Elements.
Chapter 4: Writing RibbonX Scripts.
Chapter 5: RibbonX and Visual Studio.
Part III: Creating New RibbonX Applications.
Chapter 6: Developing Business Applications for Word.
Chapter 7: Developing Business Applications for Excel.
Chapter 8: Developing Business Applications for Access.
Chapter 9: Developing Business Applications for Outlook.
Chapter 10: Developing Business Applications for PowerPoint.
Chapter 11: Working with Web Services.
Part IV: Converting Existing Toolbars and Macros.
Chapter 12: Simple Fixes for Older Menus and Toolbars.
Chapter 13: Conversion Techniques for VBA Users.
Chapter 14: Conversion Techniques for Visual Studio Users.
Part V: The Part of Tens.
Chapter 15: Ten New Tasks You Can Perform with RibbonX.
Chapter 16: Ten RibbonX Resources.
Index.
See More
John Mueller is a freelance author and technical editor. He has writing in his blood, having produced 74 books and over 300 articles to date. The topics range from networking to artificial intelligence and from database management to heads-down programming. Some of his current books include a Windows power optimization book, a book on .NET security, and books on Amazon Web Services, Google Web Services, and eBay Web Services. His technical editing skills have helped over 52 authors refine the content of their manuscripts. John has provided technical editing services to both DataBased Advisor Magazine and Coast Compute magazines. He's also contributed articles to magazines like CIO.com, DevSource, InformIT, Informant, DevX, SQL Server Professional, Visual C++ Developer, Hard Core Visual Basic, asp.netPRO, Software Test and Performance, and Visual Basic Developer.
See More