Intellectual Capital in Enterprise Success: Strategy Revisited
ISBN: 978-0-470-22479-3
196 pages
March 2008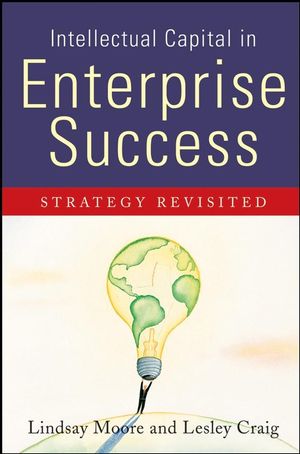 Maximize your company's intellectual capital with the tools, techniques, and framework found in Intellectual Capital in Enterprise Success: Strategy Revisited. This timely book will take you a step ahead of your competitors in driving successful and appropriate intellectual asset management practices, showing you how to capture and effectively deploy intellectual assets within your business.
See More
Dedication.
Acknowledgements.
Part I. The Field of Play.
Chapter 1. The Rise of Intellectual Capital and the New Economy.
Chapter 2. The Theory of Intellectual Capital.
Chapter 3. The New Role of the Law in Enterprise Strategy.
Part II. The Changing Rules.
Chapter 4. The Law in Flux.
Chapter 5. Intellectual Asset Management.
Part III. Strategy Revisited.
Chapter 6. Intellectual Asset Strategies.
Chapter 7. Corporate Strategy during the Era of  Intellectual Capital.
Chapter 8. Strategy and the Future.
Addendum.
The Ethics of Intellect Asset Management.
See More
Dr. Lindsay Moore is the founder and CEO of KLM, Inc., a management consultation firm that specializes in strategy, planning, branding, marketing, knowledge management, and the management of intellectual capital assets. She has published many articles and has served as a keynote speaker at numerous national and international conferences.
Lesley Craig, Esq., is one of the country's most well-respected intellectual property attorneys. Ms. Craig has had a varied career in technology and law spanning thirty years, with law practices in D.C., California, and Denver. She is often called a "rainmaker" and entrepreneur, and has been recognized as such by being named both the "Best of the Bar in IP" and "Outstanding Woman in Business" by the Denver Business Journal.
Dr. Moore and Mrs. Craig currently teach intell-ectual asset management at George Washington University Law School in Washington, D.C.
See More