AP Biology For Dummies
ISBN: 978-0-470-22487-8
388 pages
March 2008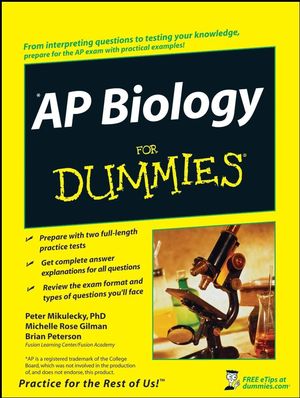 Relax. The fact that you're even considering taking the AP Biology exam means you're smart, hard-working and ambitious. All you need is to get up to speed on the exam's topics and themes and take a couple of practice tests to get comfortable with its question formats and time limits. That's where
AP Biology For Dummies
comes in.
This user-friendly and completely reliable guide helps you get the most out of any AP biology class and reviews all of the topics emphasized on the test. It also provides two full-length practice exams, complete with detailed answer explanations and scoring guides. This powerful prep guide helps you practice and perfect all of the skills you need to get your best possible score. And, as a special bonus, you'll also get a handy primer to help you prepare for the test-taking experience. Discover how to:
Figure out what the questions are actually asking
Get a firm grip on all exam topics, from molecules and cells to ecology and genetics
Boost your knowledge of organisms and populations
Become equally comfortable with large concepts and nitty-gritty details
Maximize your score on multiple choice questions
Craft clever responses to free-essay questions
Identify your strengths and weaknesses
Use practice tests to adjust you exam-taking strategy
Supplemented with handy lists of test-taking tips, must-know terminology, and more, AP Biology For Dummies helps you make exam day a very good day, indeed.
See More
Introduction.
Part I: Doing Your Best for the Test.
Chapter 1: Dissecting the AP Biology Exam.
Chapter 2: Strategies, Suggestions, and Schedules.
Part II: Molecules and Cells.
Chapter 3: Biochemistry: The Little Things That Count.
Chapter 4: Answering Questions on Biochemistry.
Chapter 5: The Cell's Structure: Factories at Work.
Chapter 6: Answering Questions about Cell Structure.
Chapter 7: Dividing Cells and Conquering the Processes.
Chapter 8: Answering Questions about Cell Functions.
Chapter 9: Cell Respiration: Energized and at the Ready!
Chapter 10: Answering Questions about Cell Respiration.
Part III: Living Large — Organisms and Populations.
Chapter 11: Rooting Through Plant Life.
Chapter 12: Answering Questions about Plant Life.
Chapter 13: Animals and Behavior.
Chapter 14: Answering Questions About Animals and Behavior.
Chapter 15: Taxonomy and Classification.
Chapter 16: Answering Questions on Taxonomy and Classification.
Chapter 17: Getting Along in the World: Ecology.
Chapter 18: Answering Questions About Ecology.
Part IV: Inheriting and Evolving.
Chapter 19: Heredity: Looking Like Your Parents.
Chapter 20: Answering Questions About Heredity.
Chapter 21: Genetics: Getting Down to DNA Level.
Chapter 22: Answering Questions on Genetics.
Chapter 23: Evolving: Past, Present, and Future.
Chapter 24: Answering Questions on Evolution.
Part V: Putting It All into Practice, or, Practicing What Has Been Preached.
Chapter 25: Test 1.
Chapter 26: Answers to Test 1.
Chapter 27: Test 2.
Chapter 28: Answers to Test 2.
Part VI: The Part of Tens.
Chapter 29: Ten Terms to Tattoo on Your Brain.
Chapter 30: Ten Pathways (and Cycles).
Chapter 31: Ten Organelles to Know.
Chapter 32: Ten Points on Plants and Animals.
Index.
See More
Peter Mikulecky:
Peter Mikulecky grew up in Milwaukee, an area of Wisconsin unique for its high human-to-cow ratio. After a breezy four-year tour in the Army, Peter earned a BS in biochemistry and molecular biology from the University of Wisconsin – Eau Claire and a PhD in biological chemistry from Indiana University. With science seething in his DNA, he sought to infect others with a sense of molecular wonderment. Having taught, tutored, and mentored in classroom and laboratory environments, Peter was happy to find a home at Fusion Learning Center and Fusion Academy. There, he enjoys persuading students that biology and chemistry are in fact fascinating journeys, not entirely designed to inflict pain on hapless teenagers. His military training occasionally aids him in this effort.
Michelle Rose Gilman: Michelle Rose Gilman is most proud to be known as Noah's mom (Hi Munch!). A graduate of the University of South Florida, Michelle found her niche early and at 19 was already working with emotionally disturbed and learning disabled students in hospital settings. At 21 she made the trek to California, and there she found her passion for helping teenage students become more successful in school and life. What started as a small tutoring business in the garage of her California home quickly expanded and grew to the point where traffic control was necessary on her residential street.
Today, Michelle is the Founder and CEO of Fusion Learning Center and Fusion Academy, a private school and tutoring/test-prep facility in Solana Beach, California, serving over 2,000 students per year. She is the author of ACT For Dummies, Precalculus For Dummies, and other books on self-esteem, writing, and motivational topics. Michelle has overseen dozens of programs over the last 20 years, focusing on helping kids become healthy adults. She currently specializes in motivating unmotivatable adolescents, comforting their shell-shocked parents, and assisting her staff of 35 teachers.
Michelle lives by the following motto: "There are people content with longing; I am not one of them."
Brian Peterson: Brian remembers a love for science going back to his own AP Biology high school class. At the University of San Diego, Brian majored in Biology and minored in Chemistry, with a pre-med emphasis. Before embarking to medical school, Brian took a youngadult-professional detour and found himself at Fusion Learning Center/Fusion Academy, an independent private school, where he quickly discovered a love of teaching. Years later, he finds himself the Science Department Head at Fusion and oversees a staff of 11 science teachers. Brian, also known as "Beeps" by his favorite students, is committed to encouraging the love of science in his students by offering unique and innovative science curricula.
See More