E-book
Media Rules!: Mastering Today's Technology to Connect With and Keep Your Audience
ISBN: 978-0-470-22582-0
288 pages
October 2007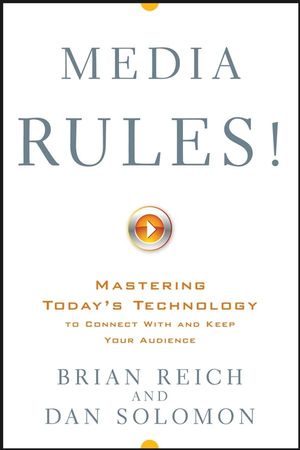 Authors Brian Reich and Dan Solomon have seen how changes in both technology and society can affect the communications and operations of an organization. Now, with Media Rules!, they provide you with a framework for understanding this dynamic world. It doesn't matter whether you're in the business of disseminating information or producing products, this book will prepare you to distinguish yourself from the competition by creating new models to better serve your audience and harnessing the full potential that technology provides.
See More
Foreword.
Acknowledgments.
Introduction.
Chapter 1 The Media That Matters.
Chapter 2 Translating Transition.
Chapter 3 Be All Things.
Chapter 4 Be Organic.
Chapter 5 Be a Guide.
Chapter 6 Be Choosy.
Chapter 7 Be a Fighter.
Chapter 8 Be an Expert.
Chapter 9 Be Part of the Best Team.
Chapter 10 Be Ahead of Your Audiences.
Chapter 11 Be Second to Your Competitors.
Chapter 12 Be Fresh.
Chapter 13 Be Geographically Relevant.
Chapter 14 Be a Public Failure.
Chapter 15 Be Connected and Coordinated.
Chapter 16 Be a Steward.
Chapter 17 Be Measurable.
Notes.
Bibliography.
Index.
See More
Brian Reich
is Director of New Media for Cone, Inc., a brand strategy and communications agency that creates stakeholder loyalty and long-term relationships through cause branding and corporate responsibility, marketing, public relations, and issues and crisis management initiatives. He has spent much of his life working with political organizations, helping to direct dozens of campaigns across the country.
Dan Solomon is CEO of Virilion, a full-service interactive agency with offices in Austin, Boston, Chicago, Washington, DC, and Los Angeles. The firm's work on behalf of clients has been recognized with awards from PR Week, PR News, the Public Affairs Council, the Ad Club of Greater Washington, and the South by Southwest Festival, among others. Prior to joining Virilion, Solomon was publisher for nationaljournal.com.
See More