Microsoft Office PerformancePoint Server 2007
ISBN: 978-0-470-22907-1
Paperback
417 pages
August 2008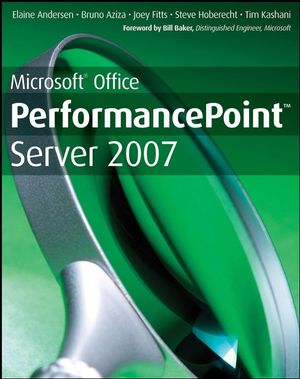 This title is out-of-print and not currently available for purchase from this site.
Other Available Formats:
E-book
Foreword.
Introduction.
Part I Performance Management and Microsoft PerformancePoint Server.
Chapter 1 Microsoft's Performance Management Strategy.
Chapter 2 Microsoft PerformancePoint Server Fundamentals.
Chapter 3 Setting Up and Configuring PerformancePoint Servers.
Part II PerformancePoint Monitoring and Analytics.
Chapter 4 PerformancePoint Monitoring and Analytics Architecture: Overview.
Chapter 5 Implementing Scorecards and KPIs.
Chapter 6 Developing Effective Analytic Views.
Chapter 7 Creating Effective Dashboards.
Chapter 8 Supplementing Dashboards with Reports.
Chapter 9 Implementing Security Controls.
Part III PerformancePoint Planning.
Chapter 10 Planning Overview.
Chapter 11 Application Components.
Chapter 12 Business Rules.
Chapter 13 Data Integration.
Chapter 14 Reports and Forms.
Chapter 15 Security and Roles.
Chapter 16 Data Process.
Chapter 17 Deployment and Migration.
Part IV Successfully Engaging Users in Monitoring, Analytics, and Planning.
Chapter 18 Bringing Monitoring, Analytics, and Planning Together.
Chapter 19 Planning and Maintaining Successful Dashboards.
Chapter 20 Planning Application Development.
Index.