Colloidal Nanoparticles in Biotechnology
ISBN: 978-0-470-23052-7
384 pages
April 2008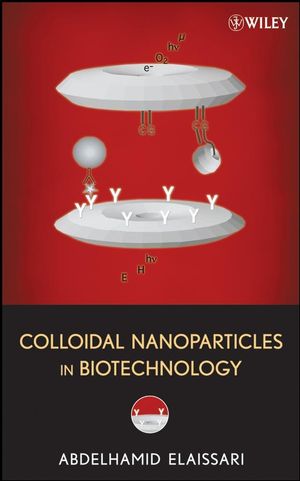 Dr. Abdelhamid Elaissari, internationally respected author and researcher, reports on and analyzes a broad range of important findings from new studies on the use of colloidal nanoparticles in biomedical, food, and environmental diagnostics and analyses. Throughout the presentation, the book uses a blend of classical tools, including optical microscopy, atomic force microscopy, microsystems, and microfluidics, to help you take full advantage of colloidal nanoparticles for your own research and applications.
See More
About the Editor vii
Preface ix
Contributors xi
1. Reactive Nanocolloids for Nanotechnologies and Microsystems 1
Christian Pichot
2. Nanoparticles Comprising pH/Temperature-Responsive Amphiphilic Block Copolymers and Their Applications in Biotechnology 31
Peihong Ni
3. Evolution in Malaria Disease Detection: From Parasite Visualization to Colloidal-Based Rapid Diagnostic 65
Duangporn Polpanich, Pramuan Tangboriboonrat, and Abdelhamid Elaissari
4. Antigen-Antibody Interactions Detected by Quasi-Elastic Light Scattering and Electrophoretic Mobility Measurements – A New Concept for Latex Immunodiagnostic Test 95
Teresa Basinska and Stanislaw Slomkowski
5. Biospecific Reactions by Affinity Latexes from Diagnostics to Multiplex Assay 117
Haruma Kawaguchi
6. Fluorescent Colloidal Particles as Detection Tools in Biotechnology Systems 133
Igor Nabiev, Alyona Sukhanova, Mikhail Artemyev, and Vladimir Oleinikov
7. Biofunctionalized Magnetic Micro/Nanoparticles for Biosensing Technologies 169
Nicole Jaffrezic-Renault, Claude Martelet, Yann Chevolot, and Jean-Pierre Cloarec
8. Colloids, Biotechnology, and Microfluidics 199
Cecile Cottin-Bizonne and Rosaria Ferrigno
9. Gas Sensors Based on Ultrathin Films of Conducting Polymers and Nanocomposites 223
Manoj K. Ram, Ozlem Yavuz, and Matt Aldissi
10. Force Measurements between Emulsion Droplets As a New Tool for Medical Diagnostics 247
Abdelhamid Elaissari, Celine Genty, and Olivier Mondain-Monval
11. Particles for Protein Analysis in Microfluidic Systems 275
Anne Le Nel, Myriam Taverna, and Jean-Louis Viovy
12. Semicarbazide/a-oxo Aldehyde Site-Specific Ligation Chemistry: From Peptide Microarrays to the Micropatterning of Polycarbonate or Titanium Oxide Using Silica Nanoparticles 299
Ouafaa El-Mahdi, Vianney Souplet, Olivier Carion, Clement Roux, Jean-Michel Garcia, Celine Maillet, Christophe Olivier, Oleg Melnyk and Jean-Olivier Durand
13. Electrical Detection of Antibodies from Human Serum Based on the Insertion of Gold-Labeled Secondary Antibodies into Microor Nanogaps 329
Lionel Marcon, Didier Stie´venard, and Oleg Melnyk
Index 353
See More
Abdelhamid Elaissari, PhD, DEA, is Director of Research at the National Center for Scientific Research (CNRS) in Lyon, France. A partial list of his current research interests includes functionalization of complex colloidal systems, physical chemistry and colloidal characterization of colloidal particles, adsorption, desorption, covalent grafting, and specific immobilization of biomolecules and polyelectrolytes onto colloidal particles.
See More
More in this series