Troubleshooting Your PC For Dummies, 3rd Edition
ISBN: 978-0-470-23077-0
384 pages
March 2008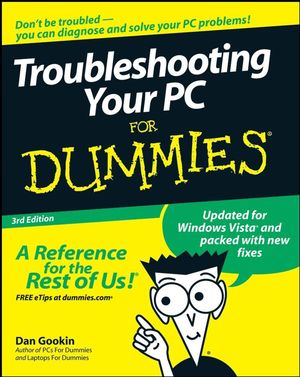 Troubleshooting your PC isn't as hard as you think. In fact, with a little help from
Troubleshooting Your PC for Dummies, 3rd Edition,
you can save yourself lots of time, money, and headaches by diagnosing and fixing those snags, glitches, and predicaments that would otherwise drive you crazy. Bringing a touch of humor and a strong dose of sanity into play PC expert Dan Gookin makes it easy!
This fully updated edition features new and expanded coverage of laptop woes as well as Internet and e-mail issues, broadband connections, spam blocking, and security concerns. You'll find answers to all of your questions about getting out of PC pickles, recognizing when you're headed for trouble, keeping Vista on the straight and narrow, creating a safe and secure PC environment, and even preventing problems down the road. Discover how to:
Remove documents from the file menu
Recognize warning signs of hard drive failure
Stop a program that's misbehaving
Reclaim missing Internet passwords
Distinguish hardware problems from software problems
Mediate conflicts between Windows and your applications
Solve startup problems
Diagnose email calamities
Troubleshoot Internet connection malfunctions
Understand puzzling error messages
Complete with lists of essential rules of tech support and things you should never or always do, Troubleshooting PCs For Dummies, 3rd Edition, gives you the tips, tricks, and solid knowledge you need to keep your PC healthy and strong for years to come.
See More
Introduction.
Part I: What the @#$%&*!?
Chapter 1: Dealing with Disaster (While Keeping Your Sanity).
Chapter 2: Do This First.
Chapter 3: Is It a Hardware Problem or a Software Problem?
Chapter 4: The R Chapter (Reinstall, Restore, Recycle, Recover).
Chapter 5: Help! I Need Somebody!
Part II: Troubleshooting Minor Irks and Quirks.
Chapter 6: This Just Bugs Me!
Chapter 7: Gosh! This Is Embarrassing!
Chapter 8: Startup Problems.
Chapter 9: Losing Things, Finding Things.
Chapter 10: Sounds Like Trouble.
Chapter 11: The Mystery of System Resources (and Memory Leaks).
Chapter 12: The Slow PC.
Chapter 13: Keyboard, Mouse, and Monitor Dilemmas.
Chapter 14: Printer Problems.
Chapter 15: Mishaps in the Storage System.
Chapter 16: Correcting Graphics Disgrace.
Chapter 17: Internet Connection Mayhem.
Chapter 18: Web Weirdness with Internet Explorer.
Chapter 19: E-Mail Calamities.
Chapter 20: Shutdown Discontent.
Part III: Woes, Wows, Windows.
Chapter 21: Windows Is As Windows Does.
Chapter 22: Windows Versus Your Programs.
Chapter 23: Windows Can Be Your Friend.
Chapter 24: Useful Tools and Weapons.
Part IV: Preventive Maintenance.
Chapter 25: Maintaining the Hard Drive.
Chapter 26: The Benefits of Backup.
Part V: The Part of Tens.
Chapter 27: The Ten Rules of Tech Support.
Chapter 28: Ten Dumb Error Messages.
Chapter 29: Ten Things You Should Never or Always Do.
Index.
See More
Dan Gookin has been writing about technology for way, way too long. He has contributed articles to numerous high-tech magazines and written over 110 books on personal computers, many of them accurate.
Dan combines his love of writing with his gizmo fascination to create books that are informative, entertaining, and not boring. Having sold more than 14 million titles translated into over 30 languages, Dan can attest that his method of crafting computer tomes seems to work.
Perhaps his most famous title is the original DOS For Dummies, published in 1991. It became the world's fastest-selling computer book, at one time moving more copies per week than the New York Times #1 bestseller (though, as a reference, it could not be listed on the NYT bestseller list). That book spawned the entire line of For Dummies books, which remains a publishing phenomenon to this day.
Dan's most popular titles include Word 2007 For Dummies, Laptops For Dummies, and PCs For Dummies (all published by Wiley). He also maintains the vast and helpful Web page www.wambooli.com.
Dan holds a degree in communications/visual arts from the University of California, San Diego. Presently, he lives in the Pacific Northwest, where he enjoys spending time with his sons in the gentle woods of Idaho.
See More