E-book
African American Religious Leaders
ISBN: 978-0-470-23142-5
168 pages
April 2008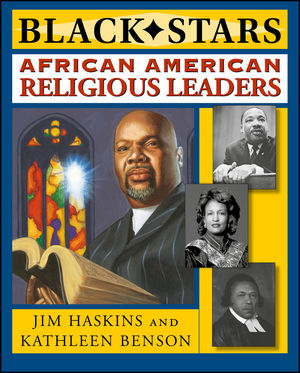 BLACK STARS

Meet the black religious leaders who helpedshape the African American experience--from colonial to modern times
*

Absalom Jones
*

Richard Allen
*

Jarena Lee
*

Lemuel Haynes
*

Peter Williams Sr.
*

Peter Williams Jr.
*

John Marrant
*

Denmark Vesey
*

Sojourner Truth
*

Nat Turner
*

Maria Stewart
*

John Jasper
*

Alexander Crummell
*

Henry Highland Garnett
*

Henry McNeal Turner
*

Richard Henry Boyd
*

Bishop C. M. "Sweet Daddy" Grace
*

Vernon Johns
*

Elijah Muhammad
*

Howard Thurman
*

Adam Clayton Powell Jr.
*

Joseph E. Lowery
*

Malcolm X
*

Martin Luther King Jr.
*

Andrew J. Young
*

James L. Bevel
*

John Lewis
*

Prathia Hall Wynn
*

Jesse L. Jackson
*

Vashti Murphy McKenzie
*

Fredrick J. Streets
*

Al Sharpton
*

Renita J. Weems
*

T. D. Jakes
See More
Introduction.
PART ONE: LEADERS OF THE REVOLUTIONARY ERA.
Absalom Jones and Richard Allen.
Lemuel Haynes.
John Marrant.
Denmark Vesey.
PART TWO: LEADERS OF THE CIVILWAR ERA.
Sojourner Truth.
Nat Turner.
Maria Stewart.
John Jasper.
Alexander Crummell and Henry Highland Garnett.
PART THREE: LEADERS OF THE RECONSTRUCTION ERA AND THE EARLY TWENTIETH CENTURY.
Henry McNeal Turner.
Richard Henry Boyd.
Vernon Johns.
Elijah Muhammad.
Howard Thurman.
PART FOUR: LEADERS OF THE CIVIL RIGHTS ERA.
Adam Clayton Powell Jr.
Joseph E. Lowery.
Malcolm X.
Martin Luther King Jr.
Andrew J. Young.
John Lewis.
PART FIVE: LEADERS OF TODAY.
Vashti Murphy McKenzie.
Frederick J. Streets.
Al Sharpton.
Renita J. Weems.
T. D. Jakes.
Notes.
Bibliography.
Picture Credits.
Index.
See More
JIM HASKINS was the author of more than one hundred books for young readers, including several other books in the Black Stars series. He also collaborated with Rosa Parks on her autobiography, Rosa Parks: My Story. He received many awards, including the Coretta Scott King Award and the Washington Post Children's Book Guild Award for his work in nonfiction for young people.
KATHLEEN BENSON is the Director of Government and Community Relations at the Museum of the City of New York.
Jim and Kathleen collaborated on more than 25 books.
See More